Watch full replay of the 'Yes Scotland' independence campaign launch
First Minister Alex Salmond was joined by politicians, actors and civic leaders at event.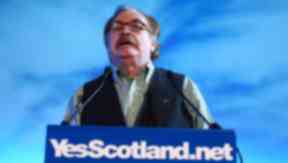 The formal campaign for Scottish independence has been launched at a celebrity-endorsed event.
Organisers of the Yes Scotland movement vowed to stage the "biggest community-based campaign in Scotland's history" in the run-up to the independence referendum which could take place in October 2014.
First Minister Alex Salmond, one of the key speakers at the launch in Edinburgh, said: "We unite behind a declaration of self-evident truth. The people who live in Scotland are best placed to make the decisions that affect Scotland. We want a Scotland that's greener, that's fairer and more prosperous. We realise that the power of an independent Scotland is necessary to achieve these great ends."
You can watch a full replay of the entire event on this page.
Scottish Green Party co-leader Patrick Harvie said: "I am very pleased to be here at the launch of the Yes campaign.
Greens are not nationalists. In fact, we are probably more comfortable than most parties in acknowledging the range of views that exist in our membership and our voters about the question of independence. But I believe, as most of us do, that the range of powers currently still held at Westminster simply make no sense from a Green perspective."
The event was held at Cineworld cinema in the Fountainbridge area of the capital.