Independence campaign changes website over Twitter follower complaints
YesScotland.net, the online home of the independence movement, lists followers on its website.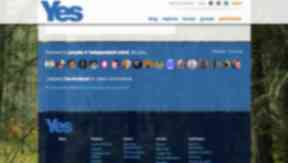 YesScotland.net, the website of the Yes campaign for the independence referendum, has been criticised after appearing to cite people who follow the campaign on Twitter as supporters.
The site presents images of social media followers under the heading "Powered by people o' independent mind, like you...".
However, after people who do not support independence saw their images on the site, YesScotland bosses changed the wording to "Already thousands have followed Yes Scotland, here are some of them..."
The website is powered by Nation Builder, cutting edge social campaigning software inspired by the Obama campaign's successful new media strategy from the 2008 US presidential election.
Caron Lindsay, a Scottish Liberal Democrat activist who blogs at the Caron's Musings website, followed the campaign on Twitter and found her picture on the website. She said the campaign should apologise for the mistake.
She explained: "Being very interested in the future of my country, I wanted to follow YesScotland because it will be part of the debate ahead of the referendum. What I didn't expect was to go on their website and see my picture there, the obvious implication from 'people o' independent mind' being that I support independence – which I certainly don't.
"I also noticed that I had a profile on the site, which I never created. If you see a profile on Facebook, you know someone has created it. This site makes it look like I've created a profile which I never have.
"I was also assigned 'points' for tweeting about the campaign. I have been tweeting about them – but it's been to take the mickey out of them. I follow thousands of people on Twitter, from Formula One drivers to the Downing Street Cat. That doesn't mean to say I agree with them."
Asked what she thought of the campaign changing the wording on their site, Caron added: "I don't think that's enough. It's easy using the Nation Builder software to separate people who've signed the declaration from people who have simply followed on Twitter. They should change it completely and only put people on there who have positively signed up.
"They should apologise and say it shouldn't have happened."
A spokesperson for YesScotland said: "YesScotland.net is an organic site which is constantly evolving and improving to keep up with demand and great ideas as it is powered by the people who use it. We welcome all feedback and are constantly striving to improve the site."
YesScotland, a cross-party campaign for a 'Yes' vote in the referendum on independence, was launched at an event in Edinburgh on Friday. Speakers at the launch included First Minister Alex Salmond, Green leader Patrick Harvie, and actor Martin Compston.