First Minister will tour California to promote tourism and business
Alex Salmond will visit Los Angeles, Sacramento, and San Francisco to meet business leaders.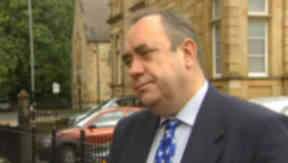 The First Minister is to tour the US west coast in an effort to drum up tourism and business investment, the Scottish Government has announced.
Alex Salmond will visit Los Angeles, Sacramento and San Francisco, taking in the world premier of the new Disney-Pixar film Brave, an animated feature set in a mythical Scotland.
He said: "The US offers huge potential, and Scotland and Scottish companies are ideally placed to take advantage of the outstanding opportunities that are available.
"The animation film Brave, for example, is expected to boost the Scottish economy by £140m, and the unique collaboration between Disney-Pixar and VisitScotland to showcase Scotland across the world is a fantastic example of maximising economic benefit from the strength of our nation's global brand.
"Innovation is critical to driving growth and jobs, especially at a time when our economies are still recovering.
"This visit will help us identify and enhance the opportunities for real, practical innovation and collaboration, and bring investment and jobs to Scotland."
The first event, on Monday June 18, involves business and media meetings to promote Scotland as a tourist destination, focusing on upcoming opportunities such as the Ryder Cup and Commonwealth Games.
In Sacramento he will meet leading Californian politicians to discuss the "importance" of the Scottish economy.
Mr Salmond will deliver a speech to the Commonwealth Club of California, described as the oldest and largest public affairs forum in the US. Other speakers are former US Secretary of State Colin Powell and US economist and Nobel laureate Joseph Stiglitz who is also a member of the Scottish Government's Council of Economic Advisers.
The First Minister will visit Stanford University to see a venture between the institution and Strathclyde, Heriot-Watt, St Andrews and Glasgow universities.