Donald Trump's 'blasphemous' tweet complaint rejected by watchdog
'Trump is not the Messiah, he's a very naughty boy' says Green MSP Patrick Harvie after Public Standards Commissioner for Scotland finds in favour of him.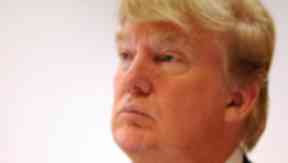 A complaint by US tycoon Donald Trump against a "blasphemous" politician has been rejected as irrelevant and inadmissible by the public standards watchdog.
Green MSP Patrick Harvie posted a parody of comedy movie Monty Python's Life of Brian on social networking site Twitter mocking a comment Mr Trump made during the Scottish Parliament's Energy Committee in April.
During the committee, Mr Trump backed his claim that wind farms will destroy tourism by declaring: "I am the evidence."
Mr Harvie later superimposed this comment over the film's controversial crucifixion scene, where crucified people cry in unison "I am Brian" in response to news that a false messiah called Brian is to be freed.
Mr Trump wrote to the Public Standards Commissioner for Scotland complaining that the tweet was "offensive and blasphemous".
In his response to the Commission, Mr Harvie said the tweet was a reaction to Mr Trump's "baseless assertion", which he regarded as "egotistical to the point of being messianic".
Commissioner Stuart Allan said MSPs are afforded "a wide latitude of expression" under the European Convention of Human Rights.
He ruled that Mr Harvie's tweet did not breach the MSPs code of conduct, but said MSPs' performance and conduct will be judged "by the electorate through the voting process rather than the code".
He concluded: "The complaint that you have set out, for the purposes of my jurisdiction, is irrelevant and inadmissible."
Mr Harvie welcomed the news that he had been cleared by the Commissioner with more Monty Python gags.
He said: "When I heard Mr Trump had apparently taken offence at my tweet, I never expected the Spanish Inquisition.
"Fortunately the Commissioner has spared me the horror of the comfy chair."
The comfy chair was a form of "torture" meted out to blasphemers by inept Spanish inquisitors in a Python sketch.
Mr Harvie added: "Trump seems to make a living from insulting behaviour. Just look at the way he has bullied the people on the Menie estate, describing their homes as slums.
"He seems to have an ego of messianic proportions. With this ruling from the commissioner we can all see that, as Brian's mum might have said, Trump is not the Messiah, he's a very naughty boy.
George A Sorial, executive vice president and counsel of the Trump Organisation, said: "Despite the ruling by the Public Standards Commission, Patrick Harvie's conduct was disgusting, immoral and an embarrassment for the entire Scottish Government.
"He is a terrible representative for Scotland with a ridiculous and myopic political agenda that's destined to fail.
"As an elected member of Parliament, his reckless criticism of an investor that's spent millions building a golf course that has already been honoured with an unprecedented 'top 10' ranking, prior to opening, reflects very poorly on Scotland's reputation within the global business community."
Monty Python is firm favourite amongst many MSPs, with the SNP parodying another Life of Brian scene in its most recent Scottish election campaign.