Scottish Government will not meet 2020 renewables target, energy bosses say
Energy sector group insists Scotland will 'continue to depend upon oil and gas'.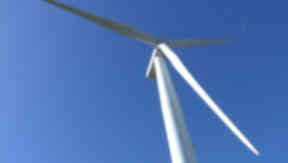 Scotland is unlikely to meet a key green energy target by 2020, according to the organisation representing the offshore oil and gas industry..
Producing the equivalent of 100% of electricity needs from renewable sources is "more likely by 2030", Oil and Gas UK said.
Holyrood's Economy, Energy and Tourism Committee is investigating how achievable the Scottish Government's 2020 targets are.
David Odling, Oil and Gas UK's energy policy manager, and Alix Thom, the organisation's employment and skills issues adviser, will answer questions from MSPs this morning.
In a written submission to the committee before the meeting, the organisation said: "It is very difficult to see how 100% of electricity from renewable sources will occur by 2020 in Scotland."
Wind power's intermittency is a possible stumbling block to achieving the 2020 target, Oil and Gas UK said.
"Scotland's target for 100% of electricity from renewables looks more likely to be for 2030 than 2020, by which time tidal and wave power could be beginning to make a material contribution."
Meeting the target "poses considerable difficulties, especially within the timeframe envisaged".
In light of this, Oil and Gas UK said: "It is essential that the Scottish Government recognises that Scotland will, for some decades to come, continue to depend upon oil and gas to meet its energy needs and that this should be reflected in the Government's policies."
With the right investment climate, the UK Continental Shelf could still satisfy 60% of oil and gas demand in 2020, it said.
"We will continue producing some oil and gas well into the 2040s and even beyond 2050."
Forecasts estimate between 14 and 24 billion barrels of oil can still be extracted.
"Given the continued dependence on oil and gas as essential sources of energy for many years to come, we believe that the UKCS (UK Continental Shelf) has the potential to be a major contributor to the future security of energy supplies in both Scotland and the rest of the United Kingdom."
However, a Scottish Government spokeswoman said ministers recognised the "immense contribution oil and gas makes to Scotland's economy" but also said independent analysis suggested the country would meet its 2020 target on renewable energy generation. The oil and gas sector is "a huge driver of the economy and we have world-leading companies and innovation in the sector which is now active not only in Scotland but throughout the whole world".
She said: "Just last month the First Minister launched an oil and gas strategy, developed in conjunction with industry, to help ensure the sector continues from strength to strength. With more than half of the value of the North Sea's oil and gas reserves yet to be extracted, oil and gas remain an enormous economic resource for Scotland's long-term benefit. Continued and sustained investment is needed in order to maximise recovery of the remaining 24 billion barrels with a wholesale value of £1.5tr. It is also the case that many oil and gas companies see the opportunity to invest in the renewables sector."