Rare letters showcase Scotland's role in American independence
The display at the National Library of Scotland will coincide with American Independence Day.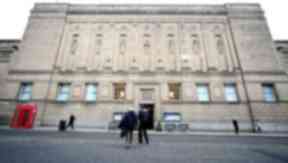 Letters signed by George Washington are to feature in a display of rare artefacts showing Scotland's role in American independence.
The National Library of Scotland is timing the exhibition to mark US Independence Day, celebrated each year on July 4.
The items on show include two letters from George Washington, America's first president; Benjamin Franklin's letter to British MP David Hartley about American prisoners of war; two letters by founding father Benjamin Rush from the post-revolution period; and a 1776 edition of Thomas Paine's Common Sense, which was printed by the Scot Robert Bell.
It has been estimated that more than one third of the 56 signatories to the American Declaration of Independence were men of Scottish descent.
Interest in material related to Washington has never been greater, according to the library. His personal copy of the US constitution sold for £6.4m at Christie's in New York in June.
Other material in the display includes the diaries of Henrietta Liston, wife of the Scottish diplomat Robert Liston, who served after the American Revolution as British Minister to the United States.
She knew many major figures of the time and recorded candid observations on American society, landscapes, customs and politics.
Senior curator Chris Taylor said: "Much of the historic material we hold was collected by Scots who had an interest in the wider world.
"It demonstrates the strong links that have always existed between Scotland and the US, and which continue today."
Assistant curator Dora Petherbridge said: "Through the 30 items in the display, we explore the conflicts, alliances and friendships that led to the birth of the United States.
"It is a fascinating story which has relevance for today given that Scots will be asked to vote on independence in 2014."
The exhibition, Dreaming and Declaring American Independence, runs until September 16 at the library on Edinburgh's George IV Bridge.