Nuclear campaigners accuse SNP of 'buckling' over Nato membership
Trident Ploughshares is planning to stage a protest over the party's plans to keep Scotland in the alliance.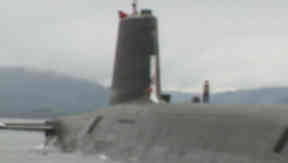 Anti-nuclear protestors are to picket the headquarters of the SNP over the party's plans to ditch its long-standing opposition to Nato membership.
The protest was announced after it was confirmed that defence spokesman Angus Robertson will ask the party conference in October to continue Nato membership if Scotland becomes independent.
First Minister Alex Salmond is backing the motion, but insists that the SNP remains firmly anti-nuclear and the party would seek to "trade in" the UK's nuclear submarines, based at Faslane.
Trident Ploughshares accused the party of showing "a slowly buckling resolve to rid Scotland of nuclear weapons" and sanctioning "mass murder".
It says that membership of the nuclear alliance would be incompatible with the SNP's anti-nuclear stance even if the weapons are removed from Scottish waters.
The group also says senior figures were misleading in their original claims that news of the policy shift was "simply rumours put about by a hostile media.
It is holding a demonstration outside the SNP's headquarters in Jackson's Entry, just off Edinburgh's Royal Mile, on August 9, the anniversary of the bombing of Nagasaki in 1945.
A Ploughshares spokeswoman said: "It seems right to respond to this on the day when we remember the thousands slaughtered in Nagasaki by an atomic weapon much smaller than those carried by our own Trident submarines.
"This is not an internal party matter for the SNP. Policies under discussion now may determine the whole basis on which an independent Scotland defines itself within the worldwide community.
"To join Nato while claiming that you want rid of Trident just does not make any sense: Nato is a nuclear weapon alliance. If your state does not have nuclear weapons, as a member it means you accept that other members of the alliance are ready to use them to commit mass murder on your behalf.
"And we have another worry. A few months ago senior SNP figures were advising us that stories about a change in the Nato policy were simply rumours put about by a hostile media.
"While we do not expect that an overt policy change over Trident is in the offing, it does now seem probable that a slowly buckling resolve to rid Scotland of nuclear weapons will mean decades of dither, time-wasting and excuses."
A spokesman for the SNP said: "The SNP has a cast-iron commitment to rid Scotland of nuclear weapons. Given the continued presence of Trident nuclear weapons in Scotland – against the wishes of her Parliament and people – independence is the only constitutional option which makes this possible.
"SNP members have the democratic opportunity to make their views on NATO membership clear at the annual Conference in October, where we expect to have an excellent debate on defence policy, including reaffirming the Party's strong anti-nuclear stance."