SNP youth wing attacks Nato U-turn as 'wavering in opposition to nuclear'
SNP Youth will vote against proposals to end party's long-held opposition to nuclear-armed alliance.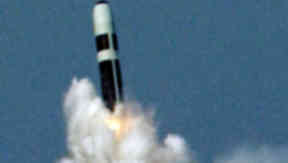 Young Nationalists have signalled their intention to vote against a proposal to ditch their party's historic opposition to Nato.
SNP defence spokesman Angus Robertson will ask delegates at the party conference in October to support keeping an independent Scotland in the nuclear-armed military alliance.
Despite his resolution enjoying the support of First Minister and party leader Alex Salmond, the SNP Youth wing has resolved to back an amendment reaffirming the SNP`s long-standing anti-Nato stance.
The head of the party's youth wing has warned the leadership that "we most certainly cannot begin to waver in our opposition to nuclear".
The SNP`s decades-long opposition is linked to its ambition to rid Scotland of the UK nuclear arsenal.
SNP Youth national convenor David Linden, also convenor of the Young Scots for Independence (YSI) movement, said in an email to members on Monday night: "The National Executive Committee met tonight and discussed this issue thoroughly.
"We have come to a clear and united decision not to support the resolution in the name of Angus Robertson but, instead, to back an amendment which has gathered support from every strand of our party, including MSPs, councillors, affiliated organisations, elected members of the party and branches stretching from Govan to Shetland.
"The party`s youth wing has a strong and proud history of consistently campaigning against nuclear weapons.
"The YSI will support, and vote for, the amendment to reaffirm current SNP policy which is sufficient and reflects our long-standing view. Indeed, I hope many YSI members who are attending conference in their own right will do similar.
"This is without doubt one of the biggest decisions the party will take in our generation pre-referendum. We, therefore, cannot afford to get it wrong and we most certainly cannot begin to waver in our opposition to nuclear.
"The leadership has taken a clear decision to finally bring this policy before conference in October. Sadly we cannot - and will not - support them on them on this particular issue."
SNP Youth's decision comes ahead of a planned protest by anti-nuclear campaigners Trident Ploughshares outside the SNP's Edinburgh HQ on the 67th anniversary of the US nuclear bombing of Nagasaki during the Second World War. The blast, which took place on August 9, 1945, followed an attack on Hiroshima three days earlier. The bombings forced the Empire of Japan to surrender and effectively ended World War II.
An SNP spokesman said: "The SNP has a cast-iron commitment to rid Scotland of nuclear weapons. Given the continued presence of Trident nuclear weapons in Scotland - against the wishes of her Parliament and people - independence is the only constitutional option which makes this possible.
"SNP members have the democratic opportunity to make their views on Nato membership clear at the annual conference in October, where we expect to have an excellent debate on defence policy, including reaffirming the party's strong anti-nuclear stance."