First Minister picks popular children's character for Christmas card
Katie Morag, the star of a series of Scots children's books, is on the card from Nicola Sturgeon.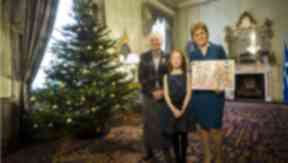 Popular Scots character Katie Morag has been chosen for the First Minister's Christmas card this year.
The star of the children's books. written and illustrated by Mairi Hedderwick, will feature on the front of the official card sent out by Nicola Sturgeon.
The card shows Katie Morag welcoming children from around the world to Ms Sturgeon's official residence, Bute House.
The First Minister said: "I am delighted that Mairi Hedderwick was able to create such a wonderful illustration for this years Christmas card.
"Katie Morags adventures accompanied by Mairi's beautiful illustrations are adored by both children and adults right across the world.
"Christmas is a time for spending time with those that we love, but it is also a time for thinking about those less fortunate than ourselves.
"There is no doubt that Scotland is a caring and compassionate country but this year in particular, I have been so proud of the warm welcome and kindness which has been extended to all who have come here.
"Whether its by helping out at a charity, or having a cup of tea and a chat with a friend or neighbour who is on their own, its important to spend some time over the next few weeks giving comfort, companionship and support to those who need it."
First published in 1984, Katie Morag has become one of Scotland's most popular and enduring characters and has now been brought to life in a BAFTA Award-winning TV series on CBeebies starring Cherry Campbell.
The original illustration will be auctioned next year and the proceeds will be shared between four charities; Enable Scotland, Children 1st, Books Abroad and the Scottish Refugee Council.
Christmas cards from previous years will also be available to buy for the first time, with profits split between other charities.
The First Minister added: "Since we launched the charity Christmas card initiative in 2007, sales of artwork and prints have raised more than 168,850 for good causes across Scotland. Id like to extend my thanks to all the artists, including Mairi, whose time and generosity have made raising so much money possible."