Football clubs ask for help to fund facial recognition technology
SPFL approaches Scottish Government for financial support to bring in scheme costing up to £4m.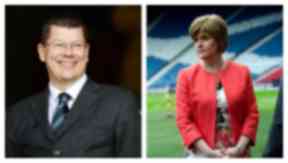 The Scottish Professional Football League has asked for financial support from the government for a scheme designed to tackle offensive behaviour in stadiums from next season, Raman Bhardwaj reports.
Meetings have already taken place between representatives of the SPFL and the Scottish Government over a request for financial help to introduce facial recognition technology, costing up to £4m, which will be used to identify offenders.
The league governing body is determined to take a firm stance on sectarian singing, the use of flares and other offensive behaviour, and believes the scheme could be effective following incidents involving Celtic, Rangers and Dundee United supporters.
The move towards the technology, which would be the first of its kind in the UK, is designed to identify those guilty of violence, offensive singing, use of pyrotechnics and any other prohibited behaviour.
One proposal would see the introduction of facial-recognition software to identify troublemakers and create a database of supporters who should be banned from grounds across the country.
If someone on the black list attempted to enter a stadium, an alert would be received allowing clubs to take action. It would then be the responsibility of clubs to ensure these fans were unable to gain access to matches.
The scheme would be introduced along with new rules and harsher punishments for clubs who fail to deal with supporters engaged in disorderly behaviour.
A points deduction would be among the more severe outcomes under the plan, which would bring an end to the current policy of clubs not being punished as long as they openly condemn such behaviour.
Debate over how to deal with crowd disorder in Scottish football has escalated in recent weeks. Scottish FA chief executive Stewart Regan has called for the introduction of "strict liability" rules to bring clubs to account for any rule breaches, aligning Scottish rules with UEFA regulations.
STV understands the SPFL proposal would not involve introducing strict liability, with those behind the move hopeful their plans will provide a compromise between the current inaction and the desire for immediate punishment.
Supporters and human rights organisations have expressed concerns over the proposals.
Simon Barrow, chairman of the Scottish Football Supporters Association (SFSA) said: "The SFSA would be concerned at a rushed move towards intrusive surveillance.
"There needs to be careful consultation with fans and clubs, alongside wider consideration of how to deal effectively and proportionately with threatening and insulting behaviour.
"The best ways forward will involve working with the great majority of supporters who deplore such abuses, rather than making them feel under accusation themselves."
Open Rights Group (ORG) Scotland said the technology would encroach on people's right to privacy and could mean football fans were unfairly targeted.
Pol Clementsmith, of the organisation, said: "There are serious concerns with data protection. How would the information be held? Are vulnerable people being filmed?
"How could someone request the data if it was privately held? Is the information commissioner happy with this plan?"
A Scottish Government spokesman said: "We look forward to football authorities setting out firm proposals on what robust action they're going to take to tackle unacceptable behaviour at football."