Call for independent inquiry into delays over payments to farmers
Only 46% of farmers have received CAP payments after claiming the support.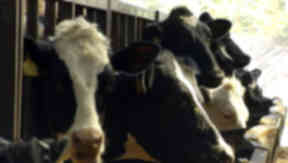 An independent inquiry should be held into delayed farmer payments, the Scottish Tories have said.
In a motion before the Scottish Parliament on Wednesday the Scottish Conservatives' rural affairs spokesperson Alex Fergusson will call for a "full independent inquiry into the Scottish Government's IT failures."
Farmers in Scotland have faced delays in getting their Common Agricultural Policy (CAP) claims processed and paid. To date only 56% of farmers have received their payments which many expected would take place in Decemeber.
Scottish Conservative leader Ruth Davidson said: "The SNP's handling of this situation is becoming more and more shambolic. This is why we need a full, independent inquiry into this matter, to find out exactly what's gone wrong and to ensure nothing like this happens again.
"Because of an IT system the Scottish Government created, nearly half of our farmers are waiting for hundreds of millions of pounds in payments that were supposed to start arriving in accounts three months ago. That is a scandal – but all Richard Lochhead can do is accuse people with legitimate concerns of 'throwing bricks'.
"His response is shameful, and completely fails to acknowledge the crisis affecting rural Scotland of his own making. The truth is, while SNP ministers were busy campaigning for independence, they took their eye off the ball, and now rural Scotland is paying the price."
Representatives from the National Farmers Union Scotland (NFUS) are to meet the First Minister on Tuesday evening.
Delays to farmers receiving CAP payments stem from the move from the single farm payment scheme to the new basic payment scheme in 2015. The Scottish Government will spend around £178m over five years managing the transition – the majority of which will be spent on the new IT system which has faced difficulties.
The SNP however has accused its opponents of playing politics with the issue.
SNP MSP Angus MacDonald said: "It is quite spectacular hypocrisy from the Tories to try and score political points over farm support – when their own Farming Minister is set on seeing the support abolished in its entirety by dragging Scotland out of the EU.
"The truth is that the Tory Government has refused to give our farming communities any information about the future of the support payments they'll receive if we're out of Europe – the Tories in Scotland should come clean on their own Farming Minister's plans."
The NFUS will stage a rally at Holyrood on Thursday ahead of First Minister's Questions.