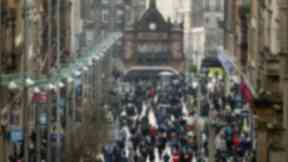 Introducing the first of Tomasz Oryński's new monthly Polish column for STV. Scroll down for the English translation.
Od kiedy pierwsza fala Polaków pojawiła się w Wielkiej Brytanii po otwarciu granic w 2004 roku, strumień naszych rodaków wciąż wartko płynie na wyspy.
Polską mowę można usłyszeć dziś praktycznie wszędzie - od wysp Scilly po Hebrydy Zewnętrzne. Potrafi to działać na nerwy m.in. Nigelowi Farage'owi, bo najwyraźniej irytuje go, kiedy nie może podsłuchiwać o czym mówią siedzący obok niego w metrze ludzie. Szczerze mówiąc to i mnie czasem irytuje kiedy nad pięknym Loch Lomond nadziewam się na porozrzucane puszki po Tyskim.
Kiedy myślimy o Polakach w Wielkiej Brytanii obrazki, które stają nam przed oczyma to właśnie albo te puszki czy spotkani w autobusie budowlańcy z reklamówkami pełnymi taniego piwa z Lidla, którzy tak często używają słowa "kurwa", że nawet rodowity Brytyjczyk pojmie, że nie deklamują Szekspira. Z pozytywnych przykłądów także ta piękna kelnerka w lokalnej kafejce uśmiechnięta kasjerka w Tesco. Takich właśnie Polaków zauważamy na co dzień i nic dziwnego, że na podstawie tej obserwacji Brytyjczycy wyrabiają sobie o nas opinię. Problem w tym, że to jest tylko cząstka prawdy.
Mija już dwunasty rok od otwarcia granic. Wielu Polaków przyjechało tu zaraz po studiach i zaczynali od przysłowiowego zmywaka, większość z nich jednak zdążyła od tego czasu wykorzystać swój potencjał. Niejeden fachowiec czy rzemieślnik także z powodzeniem rozwijał swoją karierę. I tak być może dziś ta dziewczyna, która w 2004 roku zaczynała od zbierania szklanek po piwie w lokalnym pubie dziś, po ukończeniu studiów podyplomowych, jest menadżerką w dużej korporacji, a ten sympatyczny chłopak, który pomagał nosić meble w lokalnej firemce przeprowadzkowej, dziś za pomocą floty swoich dwudziestu Sprinterów świadczy usługi kurierskie dużej firmie z branży IT.
Nowo przybywający także są już dziś inni niż kiedyś. Wielu z tych, którzy przyjeżdżali dekadę temu, nastawiało się na jak najszybsze zarobienie pieniędzy na budowę domu w Polsce a potem spokojne życie w kraju. Nie było dla nich problemem żywienie się zupkami chińskimi i "kulkami mocy" (czyli pulpetami z puszki), byli gotowi także mieszkać z obcymi czy "przemęczyć się" przez te kilka lat w komunalnym mieszkaniu w szemranej dzielnicy. Było warto - wystarczy wspomnieć że w 2005 roku szkocki kierowca ciężarówki w dwa dni zarabiał pensję początkującego nauczyciela w polskim gimnazjum.
Wielu młodych decyduje się także na emigrację czując, że nie pasują do schematu "Polaka-Katolika", szczególnie że dla tych, którzy nadają ton publicznej dyskusji w naszym kraju nawet sam papież Franciszek to przykład skrajnego lewactwa.


Tomasz Oryński
Ale Polska przebyła od tego czasu długą drogę. Kraj rozkwitnął na dobre - nie bez pomocy UE i pieniędzy przesyłanych do kraju przez migrantów. Udało nam się także przejść suchą nogą przez kryzys finansowy a gospodarka, mimo swoich wad, radzi sobie całkiem dobrze. Dziś zdolny budowlaniec może mieć lepsze życie w kraju niż na obczyźnie. Kierowca nie znający angielskiego także ma większe szanse na dobrą pracę w kraju niż za granicą. Nawet Brytyjczycy pracujący dla Polaków - również w Polsce - nie są już czymś niespotykanym. Dla polskiej klasy średniej czy absolwentów wyższych uczelni praca przez agencję w magazynie w Anglii za najniższą krajową już nie jest atrakcyjną opcją.
Dziś na Wyspy wyjeżdża się w poszukiwaniu czegoś innego. Owszem, pieniądze dalej się liczą, jednak od dłuższego czasu dla wielu nie jest to już główny argument. Dziś "lepsze życie na Wyspach" oznacza na przykład bycie szanowanym w pracy (bo polski kapitalizm zdominowany przez "Januszy biznesu" potrafi dać w kość pracownikom). Wielu młodych decyduje się także na emigrację czując, że nie pasują do schematu "Polaka-Katolika", szczególnie że dla tych, którzy nadają ton publicznej dyskusji w naszym kraju nawet sam papież Franciszek to przykład skrajnego lewactwa.
Nie można zapomnieć także o tym, że żyjemy w XXI-wiecznej Europie, gdzie przeprowadzka do innego kraju jest często normalnym etapem kariery. Wielu z tych, którzy wylądowali w Wielkiej Brytanii, niczym nie różni się od migrantów brytyjskich, którzy choć tak samo zdecydowali szukać szczęścia w innym kraju, uważają się za lepszych i nazywają się "ekspatami". Ale Polaków z tej grupy nie rozpoznamy na pierwszy rzut oka w autobusie - tak dla nas jak i dla Brytyjczyków są to po prostu zagraniczni fachowcy, których narodowość jest nieistotna.
Na Wyspach pojawiła się jednak także nowa grupa Polaków która 10 lat temu praktycznie w ogóle nie istniała. Są to osoby, które przybyły na Wyspy jako dzieci. Dziś są to studenci lub młodzi ludzie na początku kariery. Choć nie urodzili się w tym kraju, uczyli się w nim i dorastali i trudno jest odróżnić ich od Brytyjczyka z dziada pradziada.
W mediach jednak wciąż sprawa zasiłków dla migrantów z Europy wschodniej jest praktycznie jedynym kontekstem, w którym mówi się o społeczności polskiej w Wielkiej Brytanii. Nawet BBC, które za cel stawia sobie poszanowanie różnorodności, prawie całkowicie pomija Polaków. Programy z życia społeczności migrantów z Afryki, Indii czy Pakistanu są tu na porządku dziennym, podczas gdy o społeczności, której język stał się drugim najczęściej używanym na Wyspach Brytyjczycy nie wiedzą praktycznie nic. Być może pora by już była na zauważenie tej niewidzialnej mniejszości i przyjęcia jej w poczet kolorów multikulturalnej tęczy brytyjskiego społeczeństwa.
Tomasz Oryński (orynski.eu) jest polskim niezależnym dziennikarzem mieszkającym w Szkocji. Publikuje po polsku, czesku i angielsku. Studiował fizykę, astronomię, politykę Europy środkowowschodniej oraz bohemistykę. Jego zainteresowania dziennikarskie obejmują transport drogowy, politykę, muzykę i podróże, być może dlatego, że swoją przygodę ze Szkocją rozpoczął za kierownicą ciężarówki kursującej na Hebrydy Zewnętrzne.
Invisible Poles: How the Polish community in Scotland is changing
After the first huge wave of arrivals from Poland in 2004, Eastern Europeans never really stopped coming to the UK.
The Polish language nowadays can be heard everywhere from the Isles of Scilly to the Outer Hebrides. It makes Nigel Farage very uncomfortable during his daily commute. I have to say I do understand how he feels, and I can honestly say that I share his frustration when I find empty "Tyskie" cans scattered along the bonnie banks of Loch Lomond.
Think "Pole in the UK". What comes to mind? This pretty waitress from your local café? Those builders heading home on the bus with a plastic bags full of cheap Lidl beer, who use "kurwa" so often that even a native Briton knows it well, and whose language is much dirtier than their work clothes? It's all true, we've all seen those. The problem is that most Britons perceive Poles in the UK on the basis of those experiences, and this is not even close to the whole picture.
See, it has been 12 years already. Many Poles came to the UK as graduates and started from the bottom of the career ladder. But they had potential and many of them made the most of it. Many tradesmen also progressed and started their own businesses. This girl, who was collecting glasses in your local pub 12 years ago completed her postgraduate degree and today is a project manager in a big international company. This nice Polish chap, who had a cash-in-hand job carrying furniture for a local man-and-van business, now runs a fleet of 20 brand new Sprinters on the contract with the big blue chip company.
The profile of the newcomers has also changed. Many of those who arrived on British shores in 2004 aimed at making as much money as possible in the short term, building themselves a nice house back in Poland, and then going there to enjoy the rest of their lives in tranquillity. They did not mind sharing flats with strangers or living in council flats in very shady neighbourhoods. And many achieved their aim - it was not so hard if we remember that only in 2005 a lorry driver in Scotland was able to make the monthly salary of a young Polish teacher in just two days.
Young people choose to live abroad as they no longer feel comfortable in a conservative Polish society that is still under the strong influence of the Polish Catholic Church (for whom even Pope Francis is a radical leftist).


Tomasz Oryński
But Poland has come a long way over this decade. Not without the help of the EU and money sent back by migrant workers, the country has developed enormously. Poland managed to avoid the shallows of the financial crisis and its economy is doing pretty well. Today a skilled tradesman can have a better life back home than here. Earning potential for an experienced driver without English can be better in a Polish company than in the British haulage industry. Suddenly Britons working for Polish companies, both in the UK and back in Poland, are no longer unheard of. For the Polish middle class or graduates it is no longer viable to come to Britain and work in some warehouse in the middle of nowhere on a zero-hours contract at minimum wage.
This is also why the profile of Polish migration into the UK changed. Finances might still be important, but for a long time now it is no longer the main factor. Now "a better life in the UK" means for example to be respected in the workplace (Poland's young economy is well known for its 19th-century style raging capitalism). Young people choose to live abroad as they no longer feel comfortable in a conservative Polish society that is still under the strong influence of the Polish Catholic Church (for whom even Pope Francis is a radical leftist).
Last but not least, Poles come to the UK because in this 21st century Europe moving to another country for the next step of one's career is something completely normal. They are no different to all those British migrants who go for a better life to another country and call themselves "expats". This is why you don't see them on the bus - you don't see "a Polish migrant". You see a professional, whose nationality is irrelevant.
And there is yet another group of invisible Poles. It's those who arrived to Britain a decade ago as little kids. They are now graduating from colleges or universities. They might not have been born in Britain but surely they are bred here, and you would have a problem distinguishing them from your average young Briton.
Meanwhile the question of benefits for Eastern Europeans still remains the only situation in which the Polish community is mentioned. Even the BBC which aims at diversity, almost completely overlooks it. Shows about people of Indian, Pakistani or African descent are plentiful, but its listeners know virtually nothing about users of the second most spoken language in this country. Maybe it's time for Britain to notice this invisible minority and accept it as a yet another colour in the rainbow of its multicultural society.
Commentary by Tomasz Oryński (orynski.eu), a Polish freelance journalist living in Scotland. His work is published in Polish, English and Czech. He has studied physics, astronomy, eastern European politics and Czech and his professional interests include road haulage, politics, music and travel. His first Scottish job was driving a truck in the Outer Hebrides.