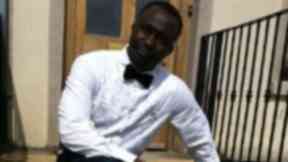 Twitter and a pinch of voyeurism may well be responsible for halting the 'disgusting' deportation of a Glasgow student.
A vociferous campaign from Scots students saw #SaveLord circulating on social media last weekend, in a bid to keep Lord Apetsi in the UK. NUS Scotland, the organisation driving the campaign, say he was detained over a clerical error.
Apetsi, a Strathclyde University academic and father of two, has been living in the UK for nine years. He has been kept in detention at Gatwick for several days now, awaiting news on whether he will be deported to Ghana. His young children are with their mother in Glasgow, but have been crying because they miss him.
The Scottish Government have demanded an "urgent" investigation into his case. Meanwhile, when asked whether Apetsi would indeed face deportation, the Home Office commented: "All asylum applications are carefully considered on their individual merits, in line with the UK immigration rules."
The lack of information in this case is astounding, as is the apparent lack of due process.
According to Apetsi's student union president elect, Raj Nesaraj, various legal firms are currently deciding whether to provide representation for him. A decision may not emerge until Tuesday and the threat of deportation remains very real - Nesaraj worries Apetsi may well be on a chartered flight at any moment.
This is all we have.
But even more chilling, if asylum seekers are being shipped off for such fatuous reasons, what happens to those who fall under the radar?
What about Beverly Vandaa Kandjii for instance? An LGBT rights campaigner, Kandjii and her four-year-old son were due to be deported to Namibia on March 24. It didn't go ahead.
Glasgow's Unity Centre say a dawn raid took place at her home, and after she was transported to London peaceful protesters who superglued their hands together in solidarity were pulled apart by police.
It's reminiscent of the Glasgow Girls campaign in 2005 - a group of young women who highlighted the poor treatment of asylum seekers whose rights of appeal had been exhausted. At the time, children at school were being dawn raided, detained and deported.
More than ten years on, leading group members Amal Azzudin and Roza Salih have received a few accolades, two documentaries and a musical but dawn raids still exist.
If Apetsi had not been a student, it seems almost certain he would be in Ghana by now. It should not take 100 people shouting outside the Home Office before we uphold basic human rights - in this case the right to family life and the rights of the child.
I applaud the campaigners who worked through the night to arrest the Home Office's decision, but NUS Scotland will admit there is a need for more radical change in our immigration laws and practices.
We need due process and we need to scrap barbaric measures like dawn raids.
Last week, a court ruled Theresa May had deported thousands of students from Britain on the basis of unscientific "hearsay" evidence. The tribunal found that the Home Office had failed to prove students had cheated in English exams before detaining them and removing them from the country - I can only hope this is the beginning of positive legal change.
But what about attitudes at home?
At the risk of hyperbole we are a nation of voyeurs. We snack on culture, travelling to destinations catered for our arrival. We sample the cuisine, trill a few phrases in a foreign language, buy the T-shirt and look forward to a comfortable sleep in our own beds on the way home.
I'm reminded of a British woman who was deported from Thailand after she had drunkenly ripped pages from her passport to use as toilet paper while bar-hopping. Meanwhile asylum seekers in the UK - people who desperately need our resources after fleeing war, torture or political oppression - are called cheats and deported because they took a government-mandated language exam.
Travel is a luxury afforded to an increasing number of us in the UK - and yet ironically, the study of foreign languages is dropping in high school and at university levels.
Recent terror attacks would indicate our awareness of international affairs is hugely influenced by the media and our government - and evidently whether or not a country has EU membership.
Compare the level of coverage on attacks in Brussels to those in Ankara, which has left over 150 people dead since last October. Where were the monuments lit up in Turkey's colours? Some have asked why Downing Street didn't fly the Turkish flag. Perhaps political correctness trumps humanitarian crisis.
The image of three-year-old Syrian Alan Kurdi lying dead on a beach appalled people across Europe but the viral circulation of that photo and its influence ended almost as quickly as it began.
It's seven months down the line and Syrian refugees are still risking their lives to reach safer destinations. It's 14 years on from the first settlement at Calais that would eventually be known as the Jungle camp.
Max Fisher wrote in Vox: "There is a line between compassion and voyeurism. And as that photo was shared and retweeted over and over again, converted into listicles and social-friendly packages, it felt more and more like the latter."
We absolutely need to be wary of viral material online and the flimsy influence it actually has. Yes, share images of the plight of refugees, people should be appalled. Tweet #SaveLord, people should be made aware. But 140 characters alone are not enough to make significant waves.
Commentary by Mary McCool, a digital journalist at STV. You can email her at mary.mccool@stv.tv.