Emma Thompson backs campaign to tackle homophobia in schools
The Harry Potter actress said homophobic bullies were 'teenage dinosaurs'.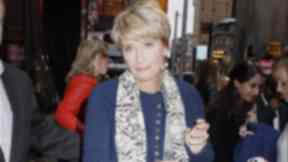 Emma Thompson has backed a campaign to tackle high rates of suicide and self harm amongst LGBT+ school pupils saying the time for homophobia is "long gone".
The Harry Potter actress announced her support for the Time for Inclusive Education (Tie) campaign as activists called for a revision of the national approach to tackling homophobia in schools.
It comes as figures showed that one in four LGBT+ young people have attempted suicide as a result of homophobic bullying.
Thompson said: "The time for homophobia is long gone. It's over.
"Any young person indulging in homophobic bullying is a teenage dinosaur who should just go and sit coughing over a sherry in an old white men's club.
"It's not cool, it's not intelligent and it's not attractive. Let the rainbow live. We are all in this together and if you're young, you know that better than anyone. Get rid of the old, get in with the new - get rid of homophobia."
The actor joins a long list of celebrities, campaigners and politicians who have voiced their support for Tie, including Mhairi Black MP, gay rights campaigner Peter Tatchell and rugby referee Nigel Owens.
The SNP unanimously passed a resolution in support of Tie at their Spring Conference this month, which called for an education system that is fully inclusive of LGBT+ identities. A manifesto commitment is expected from the party in the coming weeks.
A Tie spokesperson said: "We are delighted that Emma Thompson has backed our campaign, and has joined us in urging the next Scottish Government to commit to tackling homophobia in schools.
"Despite education featuring prominently throughout the current parliamentary election campaign, there has been no public mention of LGBT+ education from any party leaders thus far. Hopefully, the growing support for our cause will encourage them to start addressing the very real issues facing LGBT+ youth in our schools."