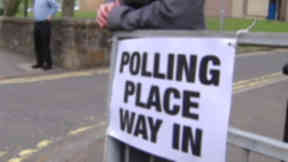 Tomasz Oryński writes a monthly Polish column for STV News. Scroll down for the English translation.
Szkocja przygotowuje się do wyborów do parlamentu w Edynburgu. Można by pomyśleć, że dla Szkotów, którzy dopiero co wybierali swoich reprezentantów w Londynie a kurz po referendum niepodległościowym jeszcze się unosi, kalendarz wyborczy jest dość szczelnie wypełniony. Ale dla Polaków w Szkocji to tylko połowa zabawy.
Polacy mieszkający w Wielkiej Brytanii mogą głosować w wyborach lokalnych (a to oznacza nie tylko wybieranie radnych w swoim mieście: w Szkocji wyborami lokalnymi w oczach Unii Europejskiej są także wybory do parlamentu w Edynburgu). To całkiem zrozumiałe - dzięki temu mamy szansę zabrać głos w sprawach które nas dotyczą. To szkocki rząd i lokalne władze dbają o drogi, po których jeździmy, o szkoły do których chodzą nasze dzieci czy o służbę zdrowia, z której (mam nadzieję) nie musimy korzystać, ciesząc się dobrym zdrowiem. Płacimy tu podatki, więc mamy prawo wypowiadać się na temat tego, jak będą wydawane.
Jednocześnie wciąż jesteśmy Polakami, więc mamy prawo oddać głos w wyborach w naszym kraju. Czy to wybory prezydenckie, czy parlamentarne, Polacy na obczyźnie mogą także oddać swój głos: korespondencyjnie lub osobiście w licznych obwodach wyborczych, zwykle mieszczących się w różnych polonijnych instytucjach. Dzięki temu mamy także wpływ na kierunek, w którym podąża nasza ojczyzna.
Jeśli chodzi o wybory europejskie - mamy dwie opcje: naszym reprezentantem w Brukseli może być kandydat z Polski lub z kraju, w którym mieszkamy. Po dokonaniu tego wyboru rejestrujemy się na wybory albo w polskim konsulacie, albo w ten sam sposób, jak każdy inny brytyjski wyborca.
Dziwnym trafem w nadchodzącym referendum decydującym o dalszej przynależności Wielkiej Brytanii do Unii Europejskiej akurat nie mamy prawa głosu, choć nie tylko sprawa ta jak najbardziej nas dotyczy, ale także zaważyć może na przyszłości całej Europy. Gdyby wypowiadać się mieli tylko Brytyjczycy to by było jeszcze zrozumiałe, ale głos oddać mogą także obywatele Irlandii oraz posiadacze paszportów z krajów Brytyjskiej Wspólnoty Narodów, którzy nie są przecież ani obywatelami brytyjskimi, ani Unii Europejskiej.
No ale nie nam o tym decydować. To jest święte prawo Brytyjczyków, jeśli taka ich wola mogą oddać przyszłość swojego kraju nawet w ręce Marsjan. Jeśli jednak szkoccy Polacy także zechcą mieć coś do powiedzenia, dla wielu długoletnich rezydentów uzyskanie brytyjskiego obywatelstwa jest niemal zwykłą formalnością. I wielu z nas już ma w szufladzie paszport z lwem i jednorożcem na okładce, choć zwykle z bardziej pragmatycznych powodów.
Poczuje się dziwnie mając przysięgać na wierność Królowej Elżbiecie.

Tomasz Oryński
Bo zwykle decyzja o postaraniu się o brytyjskie obywatelstwo wynika nie z nagłego przypływu brytyjskich uczuć patriotycznych. Chęć wiernego służenia Jej Wysokości też zwykle nie jest brana poważnie - szczególnie, że dla wielu Polaków sama idea królowych i księżniczek w XXI wieku wygląda w najlepszym razie na nieszkodliwe dziwactwo. W końcu Polska od stuleci była w awangardzie nowoczesnej demokracji - nie tylko mieliśmy jedną z pierwszych konstytucji na świecie, ale na długo przedtem głowa państwa wybierana była przez sejm.
To prawda, Polacy kochają brytyjską rodzinę królewską. To prawdopodobnie pozostałość po czasach komuny, kiedy to plotki o pełnym blichtru życiu londyńskiej arystokracji były miłą odskocznią od PRL-owskiej szarości. Jednak stosunek Polaków do rodziny Windsorów nie różni się zbytnio od ich nastawienia do rodziny Kardashianów - chętnie przeczytają jakieś ploteczki w kolorowym tygodniku i tyle. Dlatego niejeden Polak, bądź co bądź reprezentant narodu któremu od pokoleń wpajano aby nie uginał karku przed obcymi władcami, poczuje się dziwnie mając przysięgać na wierność Królowej Elżbiecie.
Ale powiedzmy sobie szczerze: po Brytyjski paszport nie aplikuje się po to, aby zostać poddanym. Dla Polaków brytyjski paszport jest po to, żeby móc jeździć po świecie bez starania się o wizy - szczególnie do USA, bo wieść gminna niesie, że amerykańscy urzędnicy konsularni lubują się w pokazywaniu Polakom gdzie ich miejsce. Zamiast więc zdawać się na łaskę lub niełaskę amerykańskiej biurokracji, wystarczy przejść życzliwą i przyjazną procedurę wystąpienia o brytyjskie obywatelstwo a problem wiz załatwiony zostaje raz na zawsze.
Ostatnio jednak coraz więcej Polaków rozważa staranie się o brytyjskie obywatelstwo z innych powodów niż chęć ułatwienia sobie wyjazdu na egzotyczne wakacje. W czasach, kiedy Wielka Brytania przymierza się do wystąpienia z UE (i to tym razem całkiem poważnie) a Polska stacza się w odmęty Monty Pythonowskiego absurdu, szkoccy Polacy zaczynają zastanawiać się czy za parę lat wciąż będą tu mile widziani jako obcokrajowcy.
I tak najczęściej zwycięża pragmatyzm. Inni przełykają degradację z wolnego obywatela na poddanego powtarzając sobie "jeśli wlazłeś między wrony...". Niezależnie jednak od tego, jaką drogą dochodzą oni do decyzji o staraniu się o drugi paszport, coraz więcej i więcej Polaków do swojego kalendarza wyborczego może dodać sobie wybory do Westminsteru. A dzięki temu osobiście przekonać się, czy tak mocno lansowany w Polsce system Jednomandatowych Okręgów Wyborczych naprawdę sprawi, że ich głos będzie więcej znaczył. Ale to już temat na inny felieton.
Tomasz Oryński (orynski.eu) jest polskim niezależnym dziennikarzem mieszkającym w Szkocji. Publikuje po polsku, czesku i angielsku. Studiował fizykę, astronomię, politykę Europy środkowowschodniej oraz bohemistykę. Jego zainteresowania dziennikarskie obejmują transport drogowy, politykę, muzykę i podróże, być może dlatego, że swoją przygodę ze Szkocją rozpoczął za kierownicą ciężarówki kursującej na Hebrydy Zewnętrzne.
Voting on two passports
Scotland is preparing for new elections to the Holyrood parliament. You might think that just a while ago, we voted for Westminster MPs and that was just after the dust had settled on the independence referendum. That seems a tight election calendar. But if you are a Pole living in the UK, this is only a part of what you have on offer.
A Pole who lives in the UK can vote in local elections (and it means not only voting for the city council; Scottish elections are also seen as local ones in the eyes of European Union). So we can have our say on the matters that are most important to us - local matters. It is the Scottish Government and local councils that are responsible for the roads we drive on, the schools our children are attending and a health service that (hopefully) most of us don't need to use. That's seems fair enough - we have a say in how our taxes are being spent.
But at the same time we are still Poles, so we can have our say in Polish elections. Whenever parliamentary or presidential elections are held in Poland, Poles in the UK can vote either by mail, or by attending polling stations organiSed for them in various Polish institutions across the country. Therefore, we can also express our will as to the direction our country should go in for the next few years.
As for European elections, here we have a choice. We can either choose to have someone from Poland or from the country of our residence to represent us in Brussels. After making that choice, it is enough for us just to register either with the Polish consulate or as every other British voter does.
Strangely enough, we have no say in the matter of Britain staying or leaving the EU, even though this will impact not only our lives here in the UK, but could also lead to further destabilisation of the European Union. Fair enough, I would say, if it was not the case that residents of Britain who hold passports from Ireland or some Commonwealth countries can have a say. So some people who are neither citizens of the UK nor of any other EU country get to vote but Poles don't.
Of course, it is not for us to decide. Britons can give the right to decide the future of their country to Martians if they please; that is their prerogative. But if you want to have any influence on that, you would have to become a British citizen yourself. And many Poles did exactly that over the last decade, although for more pragmatic reasons.
The idea of swearing allegiance to Her Majesty the Queen feels a bit weird.

Tomasz Oryński
See, most Poles who become citizens of Britain did not make this decision based on patriotism or love of their new country. Or loyalty to Her Majesty, for that matter. In fact, for many Poles the very idea of having a royal family is some weird eccentricity in the 21st century. After all, Poland has one of the longest traditions of modern democracy in Europe: we came up with one of the first constitutions in the world, and our heads of state were elected by the parliament for a long time before that.
Yes, Poles do have a long-time fascination with the British Royal Family. It is probably a remainder from the time when news from London brought some colour to a dull, grey life behind the Iron Curtain. But for Poles the Royals are just another bunch of celebrities from the glossy magazines. For people who are raised in patriotic values and who belong to a nation that is proud of not bowing its head to any foreign power, the idea of swearing allegiance to Her Majesty the Queen feels a bit weird.
But one does not apply for British citizenship to become a subject of a certain family. British Poles have other reasons: A British passport allows a Pole to travel to the USA without begging for a visa, and since American consular staff are infamous for making Poles feel like a second-class people, many choose to spend a little bit more money and after a friendly bureaucratic process obtain a passport that would solve their visa problems for life.
Recently, though, Poles have begun to consider getting British citizenship for reasons unrelated to holidays: With Britain on the verge of leaving the European Union, and this time, it seems, seriously - and Poland turning into some kind of Monty Pythonesque country where the Ministry of Silly Walks would not seem out of place - they fear that Poles might no longer be welcome in UK, and the risk that Poland could turn away from Europe too does not help either.
Anyway, for many Poles pragmatism wins. Others feel that when in Rome, do as the Romans do. And in time Westminster elections will become part of the already busy voting calendar of more and more Polish residents of UK. And then they will have a chance to check first hand if the first-past-the-post electoral system, that some of Polish politicians long for, really gives you the chance to have your voice better heard.
Comment by Tomasz Oryński (orynski.eu), a Polish freelance journalist living in Scotland. His work is published in Polish, English and Czech. He has studied physics, astronomy, eastern European politics and Czech and his professional interests include road haulage, politics, music and travel. His first Scottish job was driving a truck in the Outer Hebrides.