Ruth Davidson: SNP has no mandate for second referendum
The Prime Minister has telephoned Davidson to congratulate her on the party's Holyrood results.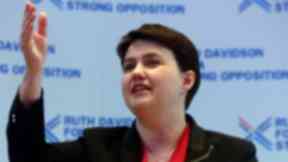 The SNP has "no mandate" for a second referendum, Ruth Davidson has said.
Speaking just a day after the Scottish Conservatives leapfrogged Scottish Labour in the Holyrood election, the Tory leader made the constitution the focus of her first speech since becoming the leader of the largest opposition party in Scotland. She warned the SNP to rule out a second referendum on independence.
Davidson said: "As I said during the election campaign, the SNP manifesto does not give Nicola Sturgeon a mandate for a second independence referendum.
"Now that she has failed to win a majority, whatever claims the SNP were pursuing with regard to constitutional brinkmanship over the next five years have now been utterly shredded.
"No mandate, no majority, no cause - the SNP must now let Scotland move on.
"There has been a material change. As she starts her new term of office, I hope Nicola Sturgeon makes it clear that she will now focus entirely on what she was elected to do - lead a devolved administration."
She continued: "She should give families and firms the certainty they need. Nicola Sturgeon has it within her power to do that.
"I urge her to start this new parliament by ruling out another referendum."
The Prime Minister phoned Ruth Davidson to congratulate her on her "historic result" on Friday morning.
Davidson also welcomed the fact that the SNP lost their majority. She believes that the last SNP government "pushed through its agenda" due to their numerical dominance.
She said: "Majority government has not worked well - too often over the last five years the SNP pushed through its agenda not on the strength of its case, but simply on strength of numbers.
"As a minority administration, I believe the SNP will be forced to listen, to learn and to improve.
"I am very very proud that our performance last night has helped to bring this about."
The Scottish Conservatives gained a total of 16 seats, upping their number of MSPs from 15 to 31 - a record number for the party.