Farage tells Scots fishermen to 'fight for their birthright'
The Ukip leader said Britain has 'given away our passport' during campaign visit to Aberdeen.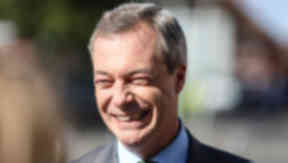 Fishermen have been urged to "take back their birthright" by voting to leave the EU by Ukip leader Nigel Farage on a visit to Aberdeen.
He said Britain has "given away our passport" to 508 million EU citizens who have the right to settle in the UK and use its health and education services.
The MEP said UK governments had "literally given away our country" and insisted a Brexit vote would mean "we will have the whip hand" in future negotiations with Europe.
Mr Farage insisted "our grandparents didn't fight two world wars ... so that we should have to go to Brussels to beg for crumbs from the table".
He was speaking to a Fishing For Leave conference in Aberdeen alongside Eurosceptic Tory marine environment minister George Eustice.
Mr Farage said: "We have given so much away. Not just our fishing grounds, we've given away (our) passport.
"This should be a British passport but what are the first two words on it? European Union.
"There are 508 million who have got one of those and any of them can come and settle in our country, work in our country, use the National Health Service, get their kids educated in our schools.
"We've given away the ability of our parliament to make our laws and our Supreme Court to judge our laws.
"We've literally given away our country and to get it back, to take on these vested interests, we are all going to have to fight.
"Let's not be ashamed to say: 'We want our country back, and we want our fishing waters back, and we demand getting back our birthright'."
He added: "I do not believe that our grandparents - my grandparents - fought in two world wars, sacrificed so much for us to be a free, independent, proud nation so that we should have to go to Brussels to beg for crumbs from the table.
"What we can do in this referendum is vote to Leave, vote to take back our territorial waters up to the 200-mile line, and then we will renegotiate internationally with other people.
"We will have the whip hand, not them. We have got to think big in this referendum."
John Edward, senior campaign spokesman for Scotland Stronger In Europe, said: "The way to have a real say over fisheries is to stay in Europe.
"By promoting walking away from the negotiating table, Mr Farage would remove the voice of all those whose high-quality goods are sold to markets elsewhere in the EU, leaving the industry at the mercy of decisions taken by others.
"No one is arguing that the EU is perfect but the gains outweigh the costs for the fishing industry and rural economy, and there have been significant reforms to the CFP pushed by the Scottish and UK governments to give our fishermen the good deal they deserve.
"Scotland will receive £85.5m from the EU Fisheries Fund until 2020, helping our fishing communities, investing in Scottish ports and refurbishing fishing vessels.
"Leaving the EU would put this at risk and would not help Scottish fishing."
Download: The STV News app is Scotland's favourite and is available for iPhone from the App store and for Android from Google Play. Download it today and continue to enjoy STV News wherever you are.