EU referendum: Full details of every Scottish result
Every area in Scotland voted to stay in the EU, with the overall figure 62% to 38%.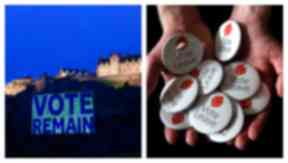 Scottish national result
The total result from across Scotland as every local authority area voted in favour for Remain.
REMAIN: 1,661,191 (61.9%)

LEAVE: 1,018,322 (37.9%)

REJECTED: 1,666 (0.0006%)

TOTAL: 2,681,179

The results in every council area as every Scottish region backs Remain.
Aberdeen
REMAIN: 63,985 (61.1%)

LEAVE: 40,729 (38.9%)
Aberdeenshire
REMAIN: 76,445 (55%)

LEAVE: 62,516 (45%)
Angus
REMAIN: 32,747 (55.3%)

LEAVE: 26,511(44.7%)
Argyll & Bute
REMAIN: 29,494 (60.6%)

LEAVE: 19,202(39.4%)
Clackmannanshire
REMAIN: 14691 (57.8%)

LEAVE: 10736 (42.2%)
Comhairle Nan Eilean Siar
REMAIN: 8232 (55.2%)

LEAVE: 6671 (44.8%)
Dumfries & Galloway
REMAIN: 43,864 (53.1%)

LEAVE: 38,803 (46.9%)
Dundee
REMAIN: 39,688 (59.8%)

LEAVE: 26,697 (40.2%)
East Ayrshire
REMAIN: 33,891 (58.6%)

LEAVE: 23,942 (41.4%)
East Dunbartonshire
REMAIN: 44,534 (71.4%)

LEAVE: 17,840 (28.6%)
East Lothian
REMAIN: 36,026 (64.6%)

LEAVE: 19,738 (35.4%)
East Renfrewshire
REMAIN: 39,345 (74.3%)

LEAVE: 13,596 (25.7%)
Edinburgh
REMAIN: 187,796 (74.4%)

LEAVE: 64,498 (25.6%)
Falkirk
REMAIN: 44,987 (56.8%)

LEAVE: 34,271 (43.2%)
Fife
REMAIN: 106,754 (58.6%)

LEAVE: 75,466 (41.4%)
Glasgow
REMAIN: 168,335 (66.6%)

LEAVE: 84,474 (33.4%)
Highlands
REMAIN: 70,308 (56%)

LEAVE: 55,349 (44%)

Inverclyde
REMAIN: 24,688 (63.8%)

LEAVE: 14,010 (36.2%)
Midlothian
REMAIN: 28,217 (62.1%)

LEAVE: 17,251 (37.9%)
Moray
REMAIN: 24,111 (50.1%)

LEAVE: 23,992 (49.9%)
North Ayrshire
REMAIN: 38,394 (56.9%)

LEAVE: 29,110(43.1%)
North Lanarkshire
REMAIN: 95,549 (61.7%)

LEAVE: 59,400 (38.3%)
Orkney Islands
REMAIN: 7189 (63.2%)

LEAVE: 4193 (36.8%)
Perth & Kinross
REMAIN: 49,641 (61.1%)

LEAVE: 31,614 (38.9%)
Renfrewshire
REMAIN: 57,119 (64.8%)

LEAVE: 31,010 (35.2%)
Scottish Borders
REMAIN: 37,952 (58.5%)

LEAVE: 26,962 (41.5%)

Shetland Islands
REMAIN: 6907 (56.5%)

LEAVE: 5315 (43.5%)
South Ayrshire
REMAIN: 36,265 (59%)

LEAVE: 25,241 (41%)
South Lanarkshire
REMAIN: 102,568 (63.1%)

LEAVE: 60,024 (36.9%)
Stirling
REMAIN: 33,112 (67.7%)

LEAVE: 15,787 (32.3%)
West Dunbartonshire
REMAIN: 26,794 (62.4%)

LEAVE: 16,426 (37.6%)
West Lothian
REMAIN: 51,560 (58.3%)

LEAVE: 36,948 (41.7%)