Former Scottish Labour chair 'likely' to back independence
Jamie Glackin, who chaired the party from 2013 to 2015, tells STV News Brexit changed his thinking.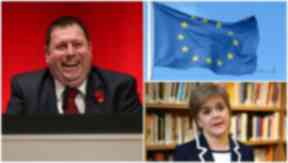 The former chair of Scottish Labour says he is now likely to back a Yes vote in a second independence referendum.
Jamie Glackin becomes the first Labour grandee to signal a change on the constitution in the wake of the UK's vote to leave the European Union.
Voters across the UK endorsed Brexit by 52% to 48% on Thursday. However Scotland, London, Manchester and Northern Ireland all voted to stay, with Scots backing EU membership by 62%.
Mr Glackin, who chaired Scottish Labour between 2013 and 2015, said he was "more minded to support independence now than I was on Wednesday" as a result of the Leave vote. He added that he "supported Nicola Sturgeon 100%" in her bid to negotiate directly with EU leaders on Scotland's behalf.
First Minister Nicola Sturgeon said on Friday that Brexit represented a "material change" in circumstances from the 2014 vote and it was now "highly likely" there would be a second referendum on Scottish independence. She confirmed on Saturday that she would seek direct negotiations with European leaders about allowing Scotland to retain EU membership.
Mr Glackin, who has sat on Labour's Scottish Executive Committee for six years, is understood to have spoken out during a meeting of the SEC on Saturday. In his comments, he told fellow Scottish Labour bosses that he could no longer back the pro-Union line in the current circumstances.
Speaking to STV News, Mr Glackin confirmed his position on independence had changed, citing the impact of Britain leaving the EU on small businesses like his.
He said: "I am absolutely committed to what's best for Scotland and, as a businessman, my business cannot survive outwith the common market. I have to think of my workers. Labour is supposed to be about thinking for the workers. My workers and my business need to be in the EU.
"I absolutely support Nicola Sturgeon 100% in her sojourn across European capitals. The whole landscape has changed. We are in a completely different place now. We have to accept the consequences of this vote. If a second referendum on independence were held tomorrow, Yes would win. The Labour Party cannot be seen to stand in the way of that.
"I accept the pooling and sharing of resources argument. I accept the importance of standing in solidarity with working class people. But the people of England made a massively different decision to us and did so democratically. Now it is our right to stand with democratic people across Europe."
Mr Glackin runs Renewable Energy Consultants, a small firm operating in the green sector.
He was keen to stress that his views were not a rebuff of the Scottish Labour leadership. He insisted: "I support Kezia Dugdale 100% and she's the only reason I'm still in the Labour Party."
Although he campaigned against independence in 2014, he is now minded to vote for Scotland leaving the UK.
He said he would "absolutely share a platform" with the SNP in a second referendum if no arrangement can be made to keep Scotland in the EU.
He said that he expects other leading Scottish Labour figures to come forward in the days and weeks ahead to echo his change of heart.
Mr Glackin explained that it was not yet a foregone conclusion that he would vote Yes but said it was more probable after Thursday's referendum.
He said: "If there's a change of leadership in UK Labour and a credibility married to some sort of competence, and we come to some sort of understanding with the EU, it doesn't necessarily mean I'd vote for independence then. But it is more likely than two or three days ago."
Jeremy Corbyn, he stressed, had to go as Labour leader. "I cannot foresee any circumstances where Jeremy Corbyn wins a general election and secures us a credible relationship with the EU."
A spokesperson for Scottish Labour said: "Labour's manifesto for the Scottish election ruled out a second referendum in this parliament. That's unlikely to change any time soon and Scottish Labour will apply our values to the challenges ahead and take decisions in a democratic fashion, according to the views of our members.
"It is clear that the fallout from Brexit will have huge, far-reaching consequences for our economy and our politics. With so many unanswered questions and so much uncertainty likely to be hanging over the UK for the next few years it is important not to make knee-jerk decisions.
"Now is a time for calm heads and a period of reflection and Labour will continue to consider all options in the best interests of the people of Scotland."
Stephen Daisley is STV's digital politics and comment editor. You can contact him at stephen.daisley@stv.tv.