Nicola Sturgeon says Holyrood could try to block Brexit
The First Minister said MSPs could refuse to give the move 'legislative consent'.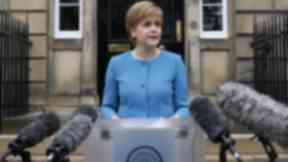 Nicola Sturgeon has said the Scottish Parliament could try to block the UK's exit from the European Union.
The First Minister said she would ask MSPs to refuse to give their "legislative consent" to the move.
While the UK as a whole voted to leave the European Union last Thursday, Scots voted by 62% to 38% in favour of staying in - a result which prompted the First Minister to make clear that a second independence referendum is now "very much on the table".
Ms Sturgeon's comments came after she said that any attempt from the UK Government to block a second referendum on Scottish independence would "democratically unacceptable."
However Scottish Secretary David Mundell said he believed the Scottish Parliament did not have the power to block a Brexit.
Devolved parliaments can give "legislative consent" for Westminster to pass laws on issues which have been devolved.
Speaking on the BBC's Sunday Politics Scotland show, Ms Sturgeon said that she would tell MSPs not to give legislative consent to laws which remove the UK from the EU.
The First Minister said: "The issue you are talking about is would there have to be a legislative consent motion or motions for the legislation that extricates the UK from the European Union?
"Looking at it from a logical perspective, I find it hard to believe that there wouldn't be that requirement."
She continued: "If the Scottish Parliament was judging this on the basis of what's right for Scotland, then the option of saying we'll we're not going to vote for something which is against Scotland's interests - of course that's got to be on the table."
The BBC's Gordon Brewer asked her if she could imagine the "fury" of the British people if she stopped them leaving Europe.
She replied: "I can - but it's perhaps similar to the fury of many people in Scotland right now as we face the prospect of being taken out of the European Union against our will.
"I didn't create these situations, I've got to try to navigate the best way forward through them, I'm not pretending any of them are easy or without complexity and I will try to do it to the best of my ability with the best interests of the people I am elected to serve uppermost in my mind."
Also speaking on the Sunday Politics Scotland programme, Conservative MP Mr Mundell said he didn't believe the Scottish Parliament was in a position to block Brexit, but he had not seen legal documentation the First Minister had referred to.
Scottish Labour grandee George Foulkes took to Twitter to say his party should support any legislative move from the First Minister to block a Brexit.
Earlier, the First Minister had said that any future Prime Minister should not try to block a second independence referendum.
She told ITV's Peston on Sunday programme: "If the Scottish Parliament votes to have another referendum in circumstances where that is the only thing we think we can do to protect our interests then frankly it is inconceivable that a Westminster government, who have thrust this situation upon us, would seek to block that, and I would seriously caution any prime minister, present or future, against doing that.
"It would be completely democratically unacceptable."