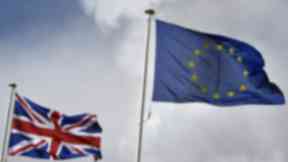 Tomasz Oryński is STV's Polish columnist and writes a monthly essay on his life in Scotland. Here he reacts to the UK's decision to leave the European Union. Tomasz isn't worried about the result. It's Britain, not EU citizens living here, who will suffer, he believes.
Tomasz's article is published in Polish with an English translation underneath.
Brexit staje się faktem. Teraz jednym z gorących tematów jest to, co stanie się Polakami w Szkocji. Ale czy to na pewno akurat my powinniśmy się martwić o swoją przyszłość?
Pierwszą rzeczą, która przyszła mi na myśl w piątkowy poranek był obrazek ze starego francuskiego komiksu na którym Obelix puka się w głowę i mówi "Ils sont fous, ces Anglais". Większość moich szkockich przyjaciół także było podłamanych lub zażenowanych wynikiem referendum.
Więcej zadowolonych było wśród tych mieszkających na południe od Carlisle, jednak tu z kolei odniosłem wrażenie, że nie spodziewali się, że faktycznie zwyciężą. Jedna rzecz łączyła ich wszystkich -- niepewność co do przyszłości. Diabeł jak zwykle tkwił w szczegółach.
Ci, którzy głosowali za pozostaniem w Unii byli bardzo zmartwieni: Jak Wielka Brytania poradzi sobie nie będąc członkiem jednej z najsilniejszych gospodarek świata? Czy uda jej się znaleźć własną drogę w zglobalizowanym świecie?
Ci, którzy byli za wyjściem gorąco wierzą w to, że ich kraj da sobie radę. Nie bardzo jednak potrafią sobie wyobrazić jak. Niechętnie dyskutują rozmaite ekonomiczno-polityczne scenariusze, zamiast tego skupiając się na sferze idei i emocji. Powracającym motywem jest twierdzenie, że głosując za wyjściem z Unii, Wielka Brytania wstała z kolan, pokazała środkowy palec dyktaturze Brukseli i teraz w demokratyczny sposób sama może decydować o swojej przyszłości.
Muszę się przyznać, że ten argument zwyczajnie mnie śmieszy. Owszem, system polityczny Unii Europejskiej pozostawia wiele do życzenia, ale powiedzmy sobie jedno: to Wielka Brytania jest krajem, w którym aby zostać głową państwa trzeba urodzić się jako potomek jakiegoś bawarskiego księcia.
A dzięki temu, że brytyjski system wyborczy nie jest w stanie zapewnić proporcjonalnej reprezentacji, wyborcy Ukip są lepiej reprezentowani w Brukseli niż w Westminsterze. Ba, nawet dziś Nigel Farage ma większe szanse aby zostać liderem Unii Europejskiej niż władcą Wielkiej Brytanii. Śmiem twierdzić, że UE ze wszystkimi swoimi wadami jest organizacją znacznie bardziej demokratyczną niż UK.
A tymczasem Brytyjczycy zagłosowali za "powstaniem z kolan" i pozbawili się wpływu na losy Europy w zamian za "odzyskaną niepodległość". Jak dla mnie Wielka Brytania przypomina dziś chłopca ze starej opowiastki, który zdecydował, że na złość babci odmrozi sobie uszy.
Co mnie najbardziej jednak zaskoczyło to to, jak moi Brytyjscy przyjaciele patrzą dziś na mnie. Wciąż słyszę teksty w rodzaju "martwię się o Ciebie". Wyrażają nadzieję, że nie będę musiał wyjeżdżać ze Szkocji. Pytają, czy my, Polacy nie boimy się tego, co ma teraz nadejść.
Nie wiem jak inni, ale ja się nie boję. Z całego tego zamieszania to właśnie my, Polacy, wyszliśmy jako ci, którym udało się mieć ciastko i zjeść ciastko, o czym tak bardzo marzył Cameron.
Jeśli zwolennicy Brexitu mają racje i Wielka Brytanię czekają teraz tłuste lata, niewątpliwie potrzebować będzie ona pracowników. Wszyscy - od Nicoli Sturgeon począwszy na Sadiqu Khanie skończywszy zapewniają, że Europejczycy wciąż będą tu mile widziani. Nawet Nigel Farage też raczej nie będzie chciał utrudniać życia swojej własnej żonie która jest Niemką. Zapewne więc, jako osoba dość już dobrze ugruntowana w Wielkiej Brytanii która żadnej pracy się nie boi wciąż mogę liczyć na to, że znajdzie się tu dla mnie miejsce.
A że Wielką Brytanię będzie teraz czekać mozolne nawiązywanie stosunków politycznych i biznesowych ze wszystkimi krajami z osobna, kto wie, może przydadzą się na coś moja znajomość dwóch europejskich języków i magisterium z Central and East European Studies? Jest więc szansa że i mi skapnie trochę tego mleka i miodu, którym płynąć będzie już wkrótce niezależna od EU Wielka Brytania.
Jeśli jednak Brexit okaże się totalną porażką (lub po prostu nie będę się już tutaj czuł mile widziany), nie będzie dla mnie problemem zmiana miejsca zamieszkania. 11 lat temu przyjechałem do Wielkiej Brytanii autostopem, mając ze sobą plecak, gitarę i 60 funtów w portfelu. Dziś jestem w znacznie lepszej sytuacji i mam do wyboru 27 krajów Unii Europejskiej. Tymczasem Brytyjczycy na własne życzenie uwięzili się na tej małej wyspie i będą musieli tu pozostać na dobre i na złe.
No ale oczywiście nie możemy wykluczyć trzeciej opcji: jeśli faktycznie będzie kolejne referendum w sprawie niepodległości Szkocji i mieszkańcy tego kraju postawieni postawieni przed wyborem między Anglią i Europą wybiorą tą drugą, dla mnie niewiele się zmieni. Wciąż będę mieszkał w Szkocji będącej częścią Europy. I, podobnie jak większość Europejczyków, nie będę płakał po pyszałkowatych Anglikach.
Ale w tej całej sprawie jest jeszcze jeden aspekt, wynikający z tego, o czym już pisałem dla STV: brytyjskiego izolacjonizmu. Widzicie, w Europie jest taki kraj, w którym niedawno także wybrano "wstawanie z kolan" i wyrywanie się spod brukselskiej dyktatury. Problem w tym, że ów kraj podczas tego wstawania z kolan soczyście walnął się w głowę o kant stołu. Może już nie klęczy, ale wątpię, żeby zwijanie się z bólu na podłodze było dokładnie tą pozycją o którą chodziło.
Po zwycięstwie populistów okazało się, że nie mają wiele do zaoferowania poza straszeniem złem wszelakim i obwinianiem o wszystko co się da innych. W rezultacie kraj ów powoli staje się kiepską parodią narodowo-socjalistycznej dyktatury i zacofanym zaściankiem Europy. Jak tak dalej pójdzie nie będzie tam potrzeba żadnego referendum bo Unia sama pozbędzie się owej czarnej owcy ze swojego grona.
I jeśli tylko Wielka Brytania nie byłaby tak zajęta sobą i zainteresowała się czasem tym, co dzieje się u sąsiadów, mogłaby wyciągnąć wnioski i uczyć się na cudzych błędach. Bo ten kraj, o którym piszę, to Polska.
W sumie więc my Polacy jak najbardziej mamy się o co martwić jeśli chodzi o nasze miejsce w Europie. Ale Brexit akurat nie jest naszym największym problemem.
Tomasz Oryński (orynski.eu) jest polskim niezależnym dziennikarzem mieszkającym w Szkocji. Publikuje po polsku, czesku i angielsku. Studiował fizykę, astronomię, politykę Europy środkowowschodniej oraz bohemistykę. Jego zainteresowania dziennikarskie obejmują transport drogowy, politykę, muzykę i podróże, być może dlatego, że swoją przygodę ze Szkocją rozpoczął za kierownicą ciężarówki kursującej na Hebrydy Zewnętrzne.
Brexit: Are Poles in the UK really the ones who should worry?
With Brexit becoming a reality, there is a lot of talk about Poles needing to worry about their future.
But are we really the ones who should be afraid of things to come?
The first thing that came to my mind on Friday morning was that frame from an old French comic book in which Obelix knocks his head and says "Ils sont fous, ces Anglais". Most of my Scottish friends were also appalled or embarassed. Amongst those from south of the border there are more who are happy with the outcome, but they seem a bit overwhelmed by the Leavers' victory. But one thing connects them all: They are all uncertain about the future.
Of course they differ in details. Those who voted to remain say are very concerned: How will Britain manage without being a member of one of the strongest economic blocs in the world? Will it be able to find its own way in a globalised world?
Those who voted to quit are pretty sure that Britain will manage very well but so far I have failed to get from them exactly how they imagine it is going to happen. Instead of discussing economic scenarios, they steer the conversation to the field of ideas and emotions. The motif that turns up over and over again is the claim that by voting to leave the EU, Britain managed to get up from its knees and by overthrowing dictators from Brussels regained its democracy and independence.
Seriously? I know the EU political system leaves a lot to be desired but I find it a bit ironic when criticism of the EU democracy comes from Britain. Let's get the facts straight: Britain is a country in which to become head of state you need to be a descendant of a certain Bavarian prince.
Because Britain lacks a proportional voting system, Ukip voters are better represented in the European Parliament than in their own parliament in Westminster. And even after Thursday's referendum Nigel Farage has a bigger chance of becoming a head of the European Union than a King of Britain. I dare say the EU, with all its flaws, is still much more democratic than the UK.
And yet Britain decided to get up off its knees and give up. An old Polish joke tells the story of a little boy who did not want to wear a hat on a frosty day, as his grandmother told him to. He says: "To piss my grandmother off, I will get frostbite on my ears!" That's how I see Britain today.
But what strikes me more is how my British friends look at me now. They all say things like "I am worried about you". They express their hope that I will be allowed to stay. They ask if we, Poles, are afraid for the future. Well I for one am not. Why should I? From all that turmoil, I emerged as the one who got that "best of both words" Cameron was talking so much about.
If Brexiters are right and Britain is to experience an economic boom, it will need workers. Everyone from Nicola Sturgeon to Sadiq Khan keeps saying that Europeans are still welcome here, and even Nigel Farage is not likely to kick ex-pats out as he has a German wife. So I will probably still be welcome here, as the enemy you know is better than something new.
And if Britain is to negotiate deals with every single country separately, it will need linguists and translators. If it needs to find its own way in the sea of European politics, it will need experts on various part of Europe. I am an experienced worker who is not afraid of any job, but if the need arises I speak two languages other than English and I graduated from a British university in central and east European studies. I am well integrated into Scottish society - I lived most of my adult live in Glasgow. Surely I have a pretty good chance to get a little chunk of that golden rain that is about to happen?
And if Brexit turns out to be total disaster (or if I simply stop feeling welcome here), I will have no problem moving on. I am still an EU citizen. Eleven years ago I came to Scotland by hitch-hiking trucks across Europe with just one backpack and my guitar. Today I am in a much better position and I have 27 countries to choose from. Meanwhile Britons gave all this up and now are going to be stuck on this little island for good or bad to come.
And then there is of course a third option: If there is a second Scottish referendum and Scots choose Europe over England, there will be little change for me. I will still live in Scotland and in the EU. And, like most Europeans, I won't be crying over Little England.
But there is one more thing to it, and it comes from the matters I touched on in my previous pieces for STV: Britain's self-inflicted isolation.
See, there was one EU country that recently voted for "getting up from its knees" and standing up to the dictators from Brussels. The problem is, that while getting up, it hit its head badly on the edge of the table and while it's not kneeling any more, I doubt that "tits up" is the position that it was aiming for.
After populists won a victory there, it turned out that apart from scaremongering they had little to offer. The country slowly turned into a nationalistic dictatorship, becoming a backwards hovel of Europe at its own wish. There might be no need of a referendum there; if things stay on the same course, this country might simply be kicked out of the EU.
And if only Britain was not so focused on blaming migration for all its problems and was willing to look around from time to time, it could learn from others' mistakes. And this country I am talking about is Poland.
So yes, we Poles have a lot to worry about. But Brexit is nowhere near the top of the list.
Comment by Tomasz Oryński (orynski.eu), a Polish freelance journalist living in Scotland. His work is published in Polish, English and Czech. He has studied physics, astronomy, eastern European politics and Czech and his professional interests include road haulage, politics, music and travel. His first Scottish job was driving a truck in the Outer Hebrides.