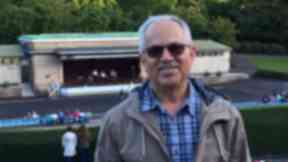 I was 26 years old when I boarded a plane for the first time.
It was an Iraqi Airways jumbo jet 747 and the date was 15 September 1974. I was heading to London via Paris and there was a big farewell from family and friends. I had mixed feelings: Happiness to see the UK and to study for a postgraduate degree at Strathclyde University; sadness to be leaving my family and friends behind. I remember my mother was particularly upset by my leaving.
When I arrived in Glasgow that October, I found it to be dull city. Everything was closed on Sundays. There was no life for young people after 5pm apart from Fridays and Saturdays. To buy rice or aubergines you needed to go to a Pakistani or Chinese shop. Bars closed at 9pm. In Baghdad bars opened until the last customer left, night clubs were full every night, life went on day and night, all kinds of restaurants served till the early hours of the morning, cinemas showed Arabic, Western and Indian movies.
It was a big, modern, very safe city to live in before the war with Iran. It will be never be that Baghdad again. It was a secular society and people from different sects, religions and backgrounds lived peacefully together. In 1974 an Iraqi dinar was worth around £2.80; now £1 is worth nearly 2000 dinar.
I was supposed to stay in the UK for two years for my study but it was not until some 19 years later, in 1993, that I was able to return back to Kurdistan, which was out of Saddam's control. By that time my mother had passed away. She had died in 1991 and she was buried in Baghdad as the family could not take her body for burial in her town in Kurdistan because of the aftermath of the first Gulf War.
To understand Iraq and the violent events that embroil it to this day, we need to understand its history.
Most of the current Middle Eastern countries did not exist during the Ottoman Empire but they came about according to British and French negotiators (most notably in the secret Sykes-Picot Agreement of 1916). This would soon be followed by the Balfour Declaration of 1917, which encouraged the international Zionist movement to push for a Jewish homeland in Palestine.
The Kurds were promised a country of their own but it never happened. Instead they were torn between three new countries - Turkey, Iraq and Syria - and the existing country of Persia (now Iran). The division was without any consideration for ethnic, religious or national differences which lead to most of the troubles in the region.
The Kurdish struggle, the Arab-Israeli conflict, and conflicts between the Sunni and Shia, the Muslims and Christians and Yazidis, all are the result of this partitioning. The Kurdish people have been suffering the most under the regimes of those countries ever since.
British oil companies soon embarked on a well-planned oil exploration programme in Iraq and in 1927 they struck oil for the first time in Baba Gurgur near the city of Kirkuk in Kurdistan. It was considered the largest oil field in the world until the discovery of the Ghawar field in Saudi Arabia in 1948.
The Ba'ath party came to power in a bloody coup in February 1963, rounding up thousands of opponents and shooting them dead. Thousands more were imprisoned and tortured. My father was among the luckier ones and managed to escape to Kurdistan to join the Peshmerga (the Kurdish rebel fighters) along with three uncles, while two more were imprisoned.
There was not a family in the neighbourhood that did not have someone killed or imprisoned or on the run. My father did not return until 1969 and even then he was under constant strain, fearful that some day the secret services would come and take him away.
Saddam came to power in 1979 and he ruled the country with an iron fist. He started gradually getting rid of his opponents - internally from the Ba'ath party and externally members of Communist, Kurdish and Shia parties and any other opposition. He created a brutal security service, whose agents terrorised the whole population; everyone was afraid and suspicious of each other.
Even students like us studying abroad were aware that fellow students were spying on any opposition. I lost two cousins and a brother in law during this period; they were accused of working with Kurdish parties. Saddam signed a deal with the Shah of Iran in 1975, brokered by Kissinger, and the Kurdish struggle in Kurdistan came to an end. Thousands of people were forced to flee to Iran as a result of this betrayal of the Kurds by America.
Saddam entered the bloodiest war in the region, the conflict with Iran, after Khomeini came to power. It lasted eight years and ended in 1988, with both sides suffering heavy loss of life. Toward the end of the war, Saddam accused the Kurds of siding with Iran and began an ethnic cleansing campaign.
Chemical weapons were used against the Kurds and 5000 people lost their life in a single attack against Halabja. The regime carried out mass killings and deportations of Kurds and nearly 280,000 Kurds were killed in the Anfal campaign.
By the end of this war, Iraq was crippled and the Gulf states refused to support Hussein financially. With the green light given by the Americans, he invaded Kuwait in 1991, which led to the First Gulf War. In this battle, Bush Snr encouraged the people to rise up and when they rose the US abandoned them.
As a result, the Shia were hunted down in the south and the Kurds escaped to the mountains. Again thousands died due to disease and starvation in harsh winter conditions. Many members of my family were among the mass exodus and several died. A safe haven zone was established in the Kurdish region, followed shortly by the withdrawal of Saddam's troops from most of the region.
Iraq was placed under terrible crippling sanctions by the UN, which were to last for more than ten years. These crushed the life of every Iraqi while Saddam went on building more palaces. Many Iraqis left the country, among them my brother and two sisters, who departed for Sweden and another who came to Scotland in 1992.
Bush Jr and Tony Blair started planning to remove Saddam from power by accusing Iraq of having and hiding weapons of mass distraction. Blair prepared a dossier on these weapons based on lies and fabrications and of course with support of the media. They lied and misled the public in their countries into supporting the invasion of Iraq in 2003. Most Iraqis wanted to get rid of Saddam when the war came but they never expected such terrible suffering to come from it.
The US and Britain went to war without any planning for what would happen after Saddam's removal. They dismantled all the building blocks of a country and turned it into a failed state where militias and criminal gangs took over. Kidnapping for ransom became common; intellectuals were assassinated.
This led to the rise of Al-Qaeda and now ISIS in Iraq rather than the peace and democracy promised by the US. More than 250,000 Iraqis have been killed to date and millions more became refugees in foreign lands. Just on Sunday, bombings in the Karrada district of Baghdad killed more than 200 innocent civilians enjoying their last day of Ramadan, mostly children and young people.
Today Iraq is run by a corrupt government. MPs represent their corrupt parties and militias fill their pockets with money while the ordinary Iraqi people live a terrible, unsafe life. Many live in extreme poverty, with no electricity to power their homes. Our family left Baghdad for Kurdistan in 2005; with thousands of other Kurdish and Christian families fleeing the city, they do not recognise Baghdad now.
Bush and Blair are responsible for the loss of life, the rise of terrorist groups, and what is happening in Iraq and the wider world today.
Bengeen Balata is an Iraqi Kurd and retired chartered engineer who lives in Edinburgh.