SNP urged to scrap Named Person scheme ahead of court ruling
The Scottish Government said the policy is 'widely popular'.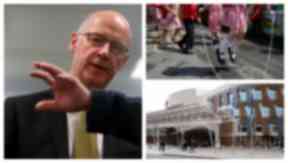 The Scottish Government has been urged to scrap its planned Named Person scheme ahead of a Supreme Court ruling on its legality.
The calls comes from the Scottish Conservatives who have been campaigning for the repeal of the legislation for a number of months.
Shadow education spokesperson Liz Smith has called on the First Minister to "end" the scheme "irrespective" if judges at the UK Supreme Court rule if it is legal or not.
Smith said: "Clearly we don't know what the court judgement on Thursday will be, but irrespective of the outcome l am sure the majority of parents still want to see the scheme dropped.
"So too do the growing number of practitioners who believe the policy is unworkable and taking far too much focus away from our most vulnerable children.
"It is a deeply unpopular, illiberal policy which has become a real headache for the SNP.
"The First Minister should swallow her pride and end it now."
The case is being brought to the highest court in the United Kingdom by four campaign groups and three individuals.
Education secretary John Swinney is in charge of rolling out the policy across Scotland. From August 31, 2016 all children from birth to their eighteenth birthday will have a Named Person assigned to them.
Ahead of the ruling, the Scottish Government said the policy is "widely supported".
A government spokesperson said: "We cannot pre-empt the Supreme Court judgement. Supporting children and families is a priority for this government and the named person policy is widely supported by leading children's charities and welfare organisations, as well as by the Scottish Police Federation, who say it will 'help keep children safer'.
"It is a policy which is aimed at protecting children's well-being, and is about supporting, not diminishing, the role of parents. The service strengthens the supportive role already performed by teachers and health visitors for families and allows the Named Person to call on other services to give support if needed. It can prevent early concerns going unchecked and potentially becoming more serious issues."
Download: The STV News app is Scotland's favourite and is available for iPhone from the App store and for Android from Google Play. Download it today and continue to enjoy STV News wherever you are.