SNP MSP boycotts travel agent that backed No vote in 2014
Barrhead Travel's chairman said independence would be a 'disaster' during the referendum.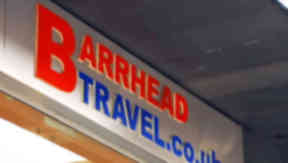 An SNP MSP is boycotting a travel agency due to its chairman's stance on the 2014 independence referendum.
Barrhead Travel, whose founder Bill Munro backed the No campaign during the referendum, has fallen foul of Glasgow Shettleston MSP John Mason.
Munro told staff he thought independence would be a "disaster" for the travel agency in 2014, though stressed at the time his was merely a "personal opinion".
Munro said: "As the weeks pass and more is discovered, the magnitude of the impending disaster should there be a Yes vote becomes ever more apparent."
The East End of Glasgow MSP says he is "boycotting" the company, which has launched a branch in his constituency, because "they're on the No side".
He added: "Got euros elsewhere."
Mason is a member of the Scottish Parliament's economy, jobs and fair work committee.
He previously served as deputy convener of the finance committee.
While on the finance committee, during a discussion of spending on healthcare, the Shettleston MSP said "part of me believes we should just close down hospitals" and instead redistribute funds to preventative community care.
Also while on that committee, Mason asked a Twitter user: "How is national debt different from national deficit?" in a debate on the UK's financial situation.
When asked if he would like to clarify his comments, Mason told STV News "he hasn't used" the firm since their intervention into the constitutional debate.
He said added he is not a regular customer of travel agencies any way.
Mason said: "Broadly speaking, companies should not have taken sides during the independence referendum.
"Barrhead Travel's comments were particularly prominent during the campaign. I haven't used them since, however, I do not often use travel companies any way.
"I mostly use them for Euros and foreign currency."
The company declined to comment on the Shettleston MSP's boycott but said it is "delighted" to do business in Scotland.
A spokesman for the company said: "The company contributes enormously to the Scottish economy and provides employment for over 800 staff based in Scotland.
"Barrhead Travel continues to expand and is about to open a new training academy in a standalone facility based in Glasgow city centre, providing more opportunities for around 100 young Scots to enter the workplace each year."
Scottish Conservative MSP Murdo Fraser said there is a "danger" that "Nationalist followers" take Mason's lead.
He said: "The only possible explanation for such a tweet is that he was joking.
"But the danger comes when an element of Nationalist followers take the message seriously, and use it as an excuse to behave in an unacceptable way.
"With that in mind, perhaps Mr Mason could clarify that his remarks were made in jest."
Scottish Labour MSP James Kelly said it is "barely worth" his SNP opponent "getting out of bed in the morning".
Kelly said: "John Mason must have difficulty going about his daily business if he refuses to deal with those who raised concerns about independence. By his own logic he can't do his shopping in Asda or Morrisons. He can't fill up his car in a BP or Shell petrol station. He can't buy any DIY products from B&Q. He can't bank with RBS or Lloyds.
"He can't go the pictures at the Parkhead Forge in his constituency to watch anything to do with Harry Potter, Judi Dench, Emma Thomson or a whole load of other entertainers. He can't enjoy the music of Rod Stewart, David Bowie or Susan Boyle. He can't even eat a Tunnock's tea cake. It's barely worth John Mason getting out of bed in the morning."
The SNP distanced themselves from Mason's remarks and said the party do not attempt to "influence people's consumer choices" based on their politics.
A party spokesman said: "All individuals and businesses are entitled to express their point of view and contribute to political debate, and we do not seek to influence people's consumer choices on the basis of those views."
Download: The STV News app is Scotland's favourite and is available for iPhone from the App store and for Android from Google Play. Download it today and continue to enjoy STV News wherever you are.