Tory MSP reported to watchdog over 'conflict of interest'
Alexander Burnett asked questions about a housing project while a shareholder in a rival firm.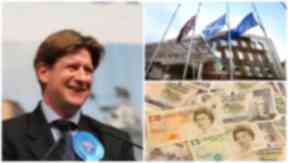 A Conservative MSP has been reported to the public standards commissioner over an alleged conflict of interest, STV News can reveal.
Alexander Burnett has been reported to the watchdog by former SNP MSP Christian Allard, who claims the Aberdeenshire West MSP failed to declare his financial interests properly.
The MSP holds shares valued at £5,524,602 in the property development company Bancon Group.
Burnett, who also independently owns land and property in the north east of Scotland, asked five questions in Holyrood surrounding a rival property company's development in Aberdeenshire.
Ross Developments and Renewables plans to build 300 houses for private rent in Banchory on farmland and Burnett is opposed to the development.
In his complaint to the commissioner, Allard said: "I believe that Alexander Burnett failed to declare a financial interest in the success of a planning application while lodging questions on the matter in parliament.
"Mr Burnett lodged five questions in Holyrood related to a proposed housing development near Banchory in his constituency.
"The Braehead scheme is being proposed by Ross Developments and Renewables, a rival of the development firm of which Mr Burnett is a director and major shareholder."
He added: "Mr Burnett's family own large parts of the north side of Banchory and, amongst his business interests in property, Mr Burnett is a major shareholder in Bancon Developments Holdings who have opposed the Braehead development.
"The Bancon Group have previously announced their intention to develop property at an alternative site in Braehead.
"When lodging the series of parliamentary questions related to this development Mr Burnett failed to submit a written declaration of interest.
"This is a clear conflict of interest and by failing to disclose it there is a potential breach of the code of conduct."
The code of conduct for MSPs states a "written declaration" must be presented to the parliamentary clerk when an MSP acts upon an issue in which he or she has a "declarable interest".
An SNP source said: "MSPs are of course entitled to raise concerns about planning applications but in this case Mr Burnett has a significant financial incentive in seeing this application defeated.
"It raises very serious questions about Mr Burnett's judgment that he has used his parliamentary position to raise concerns about a rival business's plans - at best, it looks like an abuse of his position, at worst it's a breach of parliamentary rules.
"The code of conduct is clear that MSPs must declare financial interests when raising questions - it's absolutely right that the Standards Commissioner investigates this as a potential breach of the rules."
The Scottish Conservatives defended Burnett's parliamentary questioning of the housing development.
A spokeswoman said: "This is a controversial development which hundreds have objected to and Alexander was asking these questions on behalf of a constituent, as any good local MSP would.
"Some people may find it bizarre that an EU citizen has an interest in a planning application in Banchory.
"However, it is easily explained when people understand that the planning consultant in question is an SNP appointee to the Scottish Government housing committee and Christian Allard was a former SNP MSP."
The public standards commissioner has been approached for comment.
Download: The STV News app is Scotland's favourite and is available for iPhone from the App store and for Android from Google Play. Download it today and continue to enjoy STV News wherever you are.