Donald Trump: My victory will be like 'Brexit plus'
The Republican nominee called Brexit 'beautiful' on his last visit to Scotland.
Donald Trump has said he will win the presidential election on Tuesday and it will be like "Brexit plus".
The Republican nominee made the comments at a rally in Sterling Heights, Michigan on Sunday evening.
Ukip leader Nigel Farage has appeared on stage with Trump during the campaign. On the day after the UK voted to leave the European Union, the Republican nominee described Brexit as "beautiful" while on a visit to one of his Aberdeen shire golf courses.
He told his supporters: "We are going to go on Tuesday and are going to win. This is going to be Brexit plus.
"They don't know what's going to come. The lines are so long in Florida, maybe they do know what is coming and they are not happy about it.
"From now on it's going to be America First. It's time for change, it's time for leadership".
This was Trump's second rally of four on the final Sunday of the campaign.
Thousands of Republican supporters packed the Freedom Hill Amphitheatre in Sterling Heights. Many were left disappointed with the area reaching capacity hours before he took to the stage.
During his 35 minute speech the crowd chanted for the Democratic nominee Hillary Clinton to be "locked up", that "CNN sucks" and called for Trump to "build the wall" he has promised to construct between the United States and Mexico.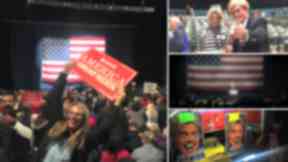 Shortly before taking to the stage the FBI announced it had concluded its second investigation into Clinton's use of a private email server and that they had found no criminal wrongdoing.
The investigation's findings were disputed by Trump.
He told the crowd: "The investigation will go on, the rank-and-file special agents won't let her get away with her terrible crimes.
"Right now she's being protected by a rigged system. It's a totally rigged system. I've been saying it for a long time.
"Hillary Clinton is guilty, she knows it, the FBI knows it, the people know it and now it's up to the American people to deliver justice at the ballot box on November 8."
Michigan has voted for the Democrats in every presidential election since 1988. Opinion polls show Clinton is leading in the state though it is tighter than it has been in recent years.
Many of Trump's supporters hail from white working class communities which have lost industrial jobs over the last 15 years.
The Republican nominee promised to bring back manufacturing jobs to the state.
Trump exclaimed: "We will stop the jobs from leaving your state.
"We're going to bring our jobs back, and there are going to be consequences if they leave."
The property tycoon is proposing to put a 35% tariff on cars built in Mexico and imported into the United States.
"From now on, it's going to be America first. It's time for change, it's time for leadership," he says.
"It's time to cut our ties to the failed politicians, Hillary Clinton is the candidate of yesterday. We are the movement of the future.
"We will make America strong and powerful again. And we will make America great again."
Both presidential candidates as well as President Obama will hold eve of poll rallies in Michigan on Monday.
Download: The STV News app is Scotland's favourite and is available for iPhone from the App store and for Android from Google Play. Download it today and continue to enjoy STV News wherever you are.