Scotland reacts to Donald Trump's US election victory
Nicola Sturgeon said people are feeling 'a real sense of anxiety' at the Republican's triumph.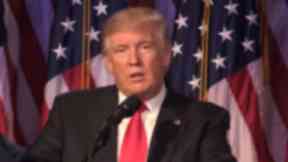 Scotland's political leaders have expressed their disappointment and dismay after Donald Trump's shock win in the US presidential election.
First Minister Nicola Sturgeon said many people around the world were feeling "a real sense of anxiety" after the billionaire tycoon's victory and paid tribute to his defeated Democrat rival Hillary Clinton.
Scottish Conservative leader Ruth Davidson expressed her hope that "President Trump turns out to be a different man to candidate Trump".
Scottish Labour leader Kezia Dugdale called the result "a dark day for those of us who believe in compassion, tolerance and equality".
Dugdale, who travelled to the US to aid the Hillary Clinton campaign, had earlier tweeted simply: "Ctrl + Alt + Delete."
Co-convener of the Scottish Greens Patrick Harvie lambasted Trump as "a racist, sexist bully" and called on Sturgeon to make clear that the US president-elect would not be welcome in Scotland.
Willie Rennie, of the Scottish Liberal Democrats, urged the "special relationship" between the UK and the US be used to influence Trump to reject "the politics of division".
David Coburn, the leader of Ukip in Scotland, welcomed Trump's victory as proof people have had enough of "the political and media classes".
Trump's victory defied much of the US polling carried out in the run-up to Tuesday's vote, with the Republican winning the key battleground states of Florida, Ohio and North Carolina.
During his campaign, he vowed to build a wall between Mexico and the United States, create a deportation force to track down the estimated 11 million undocumented immigrants living in the US and "bomb the s**t" out of Islamic State.
Sturgeon said she hoped Trump would reach out to the people "who felt marginalised by his campaign".
The First Minister said: "While this is not the outcome I hoped for, it is the verdict of the American people and we must respect it. I congratulate president-elect Trump on winning the election.
"We value our relationship with the United States and its people. The ties that bind Scotland and the US - of family, culture and business - are deep and longstanding and they will always endure.
"It is normal in any election for those on the losing side to be feel disappointment but today many in America and across the world will also feel a real sense of anxiety."
She added: "I hope the president-elect will take the opportunity to reach out to those who felt marginalised by his campaign and make clear - in deeds as well as words - that he will be a president for everyone in modern, multicultural America.
"Today must also be a moment for those who share progressive values - all of us who believe in tolerance and diversity - to speak up loudly and clearly for the values we hold dear."
The First Minister also paid tribute to Democrat candidate Clinton.
She said: "While I am personally disappointed that she will not be America's first woman president, her candidacy represented a major step forward for women in America and across the world - for that, as well as for her many years of public service, she is owed a deep debt of gratitude."
Davidson said the Trump campaign had tapped into the "disaffection we are seeing across the world".
The Scottish Tory leader said: "It's not the result I wanted but we now have to hope that President Trump turns out to be a different man to candidate Trump.
"Mr Trump tapped into the disaffection we are seeing across the world right now due to economic uncertainty. That's not something we can ignore.
"Those of us who believe open, western values are the best way to provide economic security for people now have to redouble our efforts to show they deliver for people."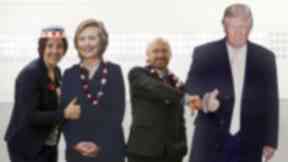 Dugdale spoke of her "great sadness" at the results and accused Trump of running a "hate-filled campaign".
The Scottish Labour leader said: "Like countless people in Scotland, the UK, and across the globe I watched with great sadness as the results from the presidential election came in.
"While we must all respect the result of this democratic contest, today is a dark day for those of us who believe in compassion, tolerance and equality.
"Donald Trump was responsible for a hate-filled campaign that was dominated by lies, misogyny and racism.
"As president-elect, he now has a responsibility to America and the world to heal the deep divisions he has caused."
She added: "Across the US, there will be women, gay people and Muslims who will now be incredibly worried about the direction of their country but there will also be countless working-class Americans who will be hurting today.
"They all need reassurances that I very much hope will be forthcoming from the Republican Party.
"I was a great admirer of Hillary Clinton and campaigned for her in America so I personally feel heartbroken by this result.
"I believe Hillary would have been a great president - the most qualified female presidential candidate ever has been defeated by the least-qualified male candidate ever.
"But the United States and Scotland share a rich history and friendship between our people. That will not be swept away by one election result."
Harvie echoed the Labour leader's comments on Trump, calling him a "dangerous and deluded individual".
The Greens co-convener said: "The election of a racist, sexist bully to the White House is profoundly depressing and will be ringing alarm bells across the world.
"Scots have been clear in their distaste for Trump and the First Minister has echoed those feelings.
"A year ago, after relentless pressure from Greens, the First Minister cancelled Trump's Global Scot ambassador status."
Harvie added: "Although Nicola Sturgeon has said the ties between Scotland and the US will endure, she must be clear that a racist, sexist bully is not welcome in Scotland even if he is US president.
"We cannot allow such a dangerous and deluded individual to have his behaviour normalised out of diplomacy.
"He needs to get the message from Scotland loud and clear that he will not be extended any courtesies as he has shown zero respect himself."
Rennie called on liberals around the world not to "fight fire with fire" in response to Trump's win.
The Scottish Lib Dem leader said: "Hope needs to prevail in the face of the politics of division. Open, liberal, tolerant and hopeful voices must stand up and be counted.
"We do not fight fire with fire. Our job as liberals is to make sure we can always inspire people in favour of an open and tolerant society. We want a world where everyone has a fair chance to get up and get on in life and to have respect for who they are.
"We should take that message to inspire people wherever they are in the world.
"We will need to use the special relationship we have with America to influence Mr Trump and to stand up for the different minorities in his country who will wake up today more fearful than they have for decades."
Coburn accused the Scottish Government of doing "their best to upset" Trump and pledged to help him bring jobs to Scotland.
Ukip's leader in Scotland said: "The American people by electing Donald Trump have followed the British people in telling the political and media classes that they have had enough.
"They are sick of open door immigration, high taxes and lower public services.
"Sadly, the Scottish Nationalist government have done their best to upset president-elect Trump and the business he was bringing to Scotland."
He added: "The sooner Scots rid themselves of this appalling government which is more interested in Scottish nationalism than Scottish jobs, the better.
"I will do my best to help President Trump - who is half Scottish - to bring jobs to Scotland."
Prime Minister Theresa May also congratulated Donald Trump and said Britain and the US "will remain strong and close partners".
She said: "I would like to congratulate Donald Trump on being elected the next President of the United States, following a hard-fought campaign.
"Britain and the United States have an enduring and special relationship based on the values of freedom, democracy and enterprise.
"We are, and will remain, strong and close partners on trade, security and defence.
"I look forward to working with president-elect Donald Trump, building on these ties to ensure the security and prosperity of our nations in the years ahead."
Download: The STV News app is Scotland's favourite and is available for iPhone from the App store and for Android from Google Play. Download it today and continue to enjoy STV News wherever you are.