Leading devolution campaigner Canon Kenyon Wright dies at 84
The retired Episcopalian priest chaired the Scottish Constitutional Convention for a decade.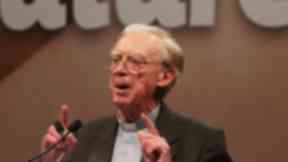 Canon Kenyon Wright, a leading campaigner for the creation of the Scottish Parliament, has died.
The 84-year-old Episcopalian priest died peacefully on Wednesday.
Mr Wright chaired the cross-party Scottish Constitutional Convention for a decade from 1989 to 1999.
The news was confirmed on behalf of the family's request by the First Minister.
Nicola Sturgeon said: "I am deeply saddened by the death of Canon Kenyon Wright and my thoughts are with his family. He is a great loss to Scotland's political, civic and religious communities.
"His input to the creation of the Scottish Parliament cannot be overstated. His chairmanship of the Scottish Constitutional Convention, which led to the creation of the Scottish Parliament, was testament to his strength of character, tenacity and charisma.
"He was able to bring together the different strands of Scottish politics and society to achieve consensus about the way ahead for Scottish devolution. His legacy will live on through the work of the Scottish Parliament."
As chairman of the group, Mr Wright asserted the people of Scotland's sovereignty over their destiny above the sovereignty of the Thatcher government.
In his opening remarks at the inaugural meeting , he said: "What if that other voice we all know so well responds by saying: We say no, and we are the state? Well we say yes - and we are the people."
Mr Wright campaigned for a Yes vote during the 2014 independence referendum.
Scottish Labour leader Kezia Dugdale paid tribute to Mr Wright on behalf of the party.
She said: "On behalf of Scottish Labour I would like to extend our condolences. Our thoughts are with Canon Kenyon Wright's family at this time.
"His work and tireless campaigning with the Scottish Constitutional Convention is a vital reason why we have a Scottish Parliament today.
"For generations to come there will be a parliament in Edinburgh that makes decisions affecting the everyday lives of Scots, and that is the wonderful legacy he leaves behind.
"The day before the Scottish Parliament opened in 1999, Canon Kenyon Wright handed the Claim of Right to Donald Dewar. That document now resides in the Donald Dewar Room in the Scottish Parliament, a fitting reminder of what was achieved by these giants of Scotland's devolution movement."
Download: The STV News app is Scotland's favourite and is available for iPhone from the App store and for Android from Google Play. Download it today and continue to enjoy STV News wherever you are.