Former Labour MP Tam Dalyell dies aged 84 after illness
The Scottish politician was known for formulating West Lothian Question on devolution.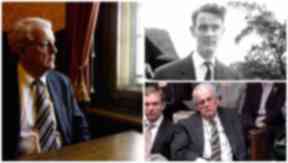 Former Labour MP Tam Dalyell has died aged 84 after a short illness.
A family statement said the parliamentary veteran - who spent 43 years as an MP - died on Thursday.
He was known for formulating the West Lothian Question on whether or not non-English MPs should be able to vote on reserved matters after devolution.
The outspoken Edinburgh politician is also remembered for his dogged questioning of Margaret Thatcher over the sinking of the General Belgrano during the Falklands War.
A statement read: "Tam Dalyell devoted his life to public service in Scotland, in the UK, and beyond.
"He made an enormous contribution in many spheres. He will be much missed both publicly, and more importantly personally, by his family and many friends."
Scottish Labour leader Kezia Dugdale said:"The Labour movement has lost a giant. Tam Dalyell was one of the most influential MPs, writers and thinkers of his generation.
"Tam served the people of West Lothian tirelessly for decades through periods of great change. He truly was their champion. As Father of the House his wisdom was passed on to countless MPs, serving as a parliamentarian while Britain had eight Prime Ministers.
"A man of peace and a man of principle, his legacy will live on in the Commons for decades to come.
"Our thoughts are with his family and many friends at this time."
First minister Nicola Sturgeon tweeted a tribute to Mr Dalyell.
She said: "Very sad to hear of the death of former Labour MP, Tam Dalyell - a real giant of Scottish politics. My thoughts are with his family."
Jeremy Corbyn also tweeted his condolences: "Sad to hear of the death of my friend Tam Dalyell, a titan of parliamentary scrutiny, fearless in pursuit of truth. Thoughts with his family."
Former prime minister Gordon Brown said: "For four decades Tam Dalyell was one of the truly great characters of Scottish political life.
"He was a leader - widely respected and admired for his insight, his integrity and his eloquence."
Scottish Labour MP Neil Finlay also paid tribute to the former Father of the House.
"Devastated my greatest friend in politics and my mentor Tam Dalyell has died," he tweeted.
"One of the finest parliamentarians of our time."
The Scottish Conservative leader Ruth Davidson said he was "unique - thoughtful, gracious, dignified and utterly tenacious" while former Labour MP Douglas Alexander described him as a "kind, generous and principled man".
Mr Dalyell was an Old Etonian who inherited a baronetcy - although he never used the title. Mr Dalyell was a Labour left-winger.
He was first elected as MP for West Lothian in Scotland in 1962, he made a name for himself for his dogged pursuit of a series of often unfashionable causes.
A fervent opponent of Scottish devolution his famous constitutional challenge - why should Scottish MPs at Westminster be able to vote on English matters when English MPs would be unable to vote on Scottish issues - became known as the West Lothian question.
He was a frequent critic of Britain's military interventions overseas and a supporter of the Troops Out campaign in Northern Ireland, he branded Tony Blair a war criminal over the invasion of Iraq.
Download: The STV News app is Scotland's favourite and is available for iPhone from the App store and for Android from Google Play. Download it today and continue to enjoy STV News wherever you are.