Ukip leader apologises for false Hillsborough claims
Paul Nuttall says he was 'genuinely taken aback' by article on his own website.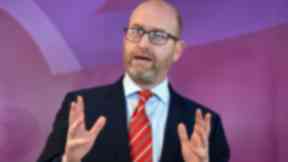 Ukip leader Paul Nuttall has apologised for the false Hillsborough claims that were published on his official website.
Nuttall made his apology at a press conference on Friday after it emerged that he had claimed on his website to have lost "close personal friends" in the Hillsborough disaster.
Mr Nuttall previously issued a statement saying he was "appalled" when he found out that there was an article on his website stating that he had lost people close to him at Hillsborough and told reporters it was not something he had written himself.
He said: "This was an article that I did not write and did not see prior to it being posted by a member of my staff.
"Of course I take responsibility for those things that are put out under my name, but I was genuinely taken aback when this claim was brought to my attention and am both appalled and very sorry that an impression was given that was not accurate."