Emma Watson backs SNP MP's bid to combat domestic abuse
The Harry Potter star has urged politicians to support a new law to tackle the issue.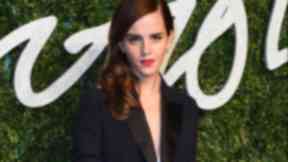 Harry Potter star Emma Watson has urged MPs to support a private member's bill aimed at combating domestic abuse which was put forward by an SNP MP.
Eilidh Whiteford, who represents Banff and Buchan in the Commons, has launched a bill which would force the UK Government to ratify the Istanbul convention on domestic abuse.
The convention aims to protect women and was signed by the UK Government in 2012 but it has not ratified it yet.
Ratifying the convention would lead to a number of changes to existing British law.
In a letter to all MPs, Ms Watson said: "I am writing today to urge you to attend the report and third reading of the Istanbul Convention Bill in Westminster, this Friday, February 24.
"I understand that a minimum of 100 MPs need to show up to support the bill again to ensure it progresses to the next stage.
"No woman should have to live with violence and abuse, yet a startlingly high number of British women will experience this in their lifetime."
Watson continued: "There is a real chance the Istanbul Convention could change this. It's the first international treaty to specifically tackle violence and abuse against women and girls.
"It sets legally binding standards for addressing all forms of violence against women - physical, sexual, emotional or financial - as well as stalking, forced marriage and female genital mutilation.
"It recognises violence against women comes in different forms and manifestations, and requires a comprehensive and integrated response."
She added: "Four years ago, the UK Government signed this historic convention, signalling its commitment, but without its ratification the convention is just a piece of paper.
"You have a unique opportunity to play a part in ending gender-based violence in our country."
Whiteford said: "I am delighted to have the full support of Emma Watson. She is a talented woman who has used her ability to reach millions of people to highlight the need to combat gender-based violence.
"She is one of the inspiring people who have helped to build a grass roots campaign for change. The women's movement has always been ahead of the curve, leaving parliament to catch up.
"That's what we have the opportunity to do this Friday. My bill has the potential to make thousands of women's lives better, it has already provided the urgency for the UK Government to announce new domestic violence legislation."
Download: The STV News app is Scotland's favourite and is available for iPhone from the App store and for Android from Google Play. Download it today and continue to enjoy STV News wherever you are.