London mayor compares Scottish nationalism to racism
Sadiq Khan said there is 'no difference' between nationalism and racism.
There is "no difference" between Scottish nationalism and racism, the mayor of London will claim later on Saturday.
Sadiq Khan will use his speech at the Scottish Labour conference to attack nationalism.
His words, which were trailed to the media ahead of his appearance, have been described as "spectacularly ill judged" and an "insult" by First Minister Nicola Sturgeon.
Khan will tell conference delegates: "Despite our shared values, there are some in Scotland who are determined to define London as Scotland's enemy - to turn us against each other.
"They try to paint my city as the home of 'the elite' - as a hotbed of conservatism. Well I'm in Perth today to send a clear message to all Scots that nothing could be further from the truth.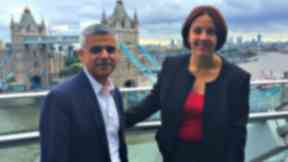 "Because that is not my London and that is not Labour's London - the London that I know and love."
He will add: "The last thing we need now is to pit different parts of our country or sections of our society against each other - or to further fuel division or seek separation.
"There's no difference between those who try to divide us on the basis of whether we're English or Scottish and those who try to divide us on the basis of our background, race or religion.
"The antidote to Brexit and the rise of right-wing populist parties is not to run away, break away or push our neighbours away. It's to lead in a different direction - the right direction."
Sturgeon criticised Khan for drawing a comparison between Scottish nationalists and racists.
In a series of tweets, she said: "I'm a big admirer of Sadiq Khan but today's intervention is spectacularly ill-judged.
"It is an insult to all those Scots who support independence for reasons of inclusion and social justice - the antithesis of what he says."
She continued: "It is a sheer desperation and moral bankruptcy that has driven so many from Scottish Labour's ranks. Very disappointing."
Two senior Scottish Labour MSPs, Anas Sarwar and Jackie Baillie, have supported the London mayor's intervention in the constitutional debate.
Sarwar urged his party's supporters to "call out" nationalists.
Baillie, who was raised in Cumbria, said she had been told to "go home" by SNP supporters and tweeted the First Minister asking why her supporters did this if "nationalism is not about racism".
Download: The STV News app is Scotland's favourite and is available for iPhone from the App store and for Android from Google Play. Download it today and continue to enjoy STV News wherever you are.