Independent Scotland 'would have to apply to join EU'
Spokesman confirms the so-called Barroso doctrine continues to apply.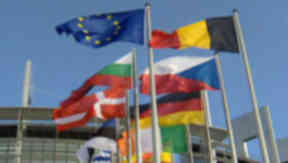 An independent Scotland would have to apply for EU membership, a spokesman for the European Commission has confirmed.
Questioned after the Scottish Government's announcement that it will seek another independence referendum, Margaritis Schinas said the so-called Barroso doctrine continued to apply.
This is the legal view, set out by former commission president Jose Manuel Barroso, that if one part of an EU country became an independent state it would have to apply for EU membership.
With regards to the Scottish situation, Mr Schinas said: "The commission does not comment on issues that pertain to the internal legal and constitutional order of our member states." He added: "The Barroso doctrine, would that apply? Yes that would apply, obviously."
However, many observers believe an independent Scotland's application for EU membership would be "fast-tracked".
Fabian Zuleeg, chief executive of the European Policy Centre, told the Guardian: "An independent Scotland would have to go through the accession process, so it would not be automatic.
"As Scotland does largely fulfil the [membership] criteria it would be a relatively smooth process."
Mr Zuleeg's views echo those of Aberdeen University professor Michael Keating, who is also the director of the Centre for Constitutional Change.
"None of them [EU member states] threatened to veto Scotland's ascension to the EU and their representatives usually said that they would follow the UK's lead; the inference is that they would recognise an independent Scotland," he said earlier this month.
"In that case, it is difficult to see on what grounds they could veto Scotland's EU membership."
No part of a member state has ever voted for independence and then re-applied for European Union membership.
East Germany automatically became part of the EU when it joined the rest of Germany in 1990.
The only part of the EU to have left was the Danish territory of Greenland which left the European Economic Community in 1985.
Meanwhile, Nato has also indicated that an independent Scotland would have to re-apply if it wished to become a member of the organisation.
Jens Stoltenberg, Nato general secretary, said: "If it happens then the UK will continue as a member of Nato but a new independent state has to apply for membership and then it is up to 28 allies whether we will have a new member.
"All decisions are taken by consensus; we need the consensus of all allies to invite a new member.' He added:
"By leaving the UK it would also leave Nato - of course it is absolutely possible to apply for membership and then the allies will then decide."
Download: The STV News app is Scotland's favourite and is available for iPhone from the App store and for Android from Google Play. Download it today and continue to enjoy STV News wherever you are.