Brexit: Theresa May will trigger Article 50 on March 29
The Prime Minister's move follows her rejection of calls for indyref2.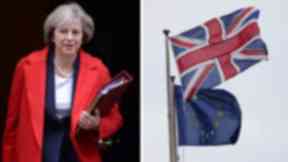 Theresa May will trigger EU withdrawal talks under Article 50 on March 29, Downing Street confirmed on Monday.
The Prime Minister's letter officially notifying the European Council of the UK's intention to quit will set in train a two-year negotiation process expected to lead to Britain leaving the European Union on March 29, 2019.
Britain's ambassador to the EU, Sir Tim Barrow, informed the office of European Council president Donald Tusk on Monday morning of May's plans.
Last week, First Minister Nicola Sturgeon called for a second Scottish independence referendum between autumn 2018 and spring 2019 ahead of the Brexit process being completed.
On Tuesday and Wednesday she will seek the support of MSPs for a Section 30 order, which would see the Scottish Parliament request power from Westminster to hold a new poll.
However, May stated last week that "now is not the time" for a second independence referendum, while she would not be drawn on the possible timescale of a new vote.
May will address MPs in a statement to the House of Commons following Prime Minister's Questions on March 29.
Mr Tusk previously said he expects to release an initial response to the Article 50 notification within 48 hours, and an extraordinary summit of the remaining 27 EU member states is due to be called within four to six weeks.
That summit will draw up a mandate for the European Commission's chief Brexit negotiator, Michel Barnier, probably allowing talks to begin in earnest in May.
The PM's official spokesman said: "Earlier this morning, the UK Permanent Representative to the EU informed the office of Donald Tusk that it is the UK's intention to trigger Article 50 on March 29.
"There will be a letter. She will notify President Tusk in writing. The Prime Minister will give a statement to Parliament as well.
"We have always been clear that we will trigger by the end of March and we have met that timetable."
The spokesman said Britain wanted to start withdrawal negotiations "promptly", but accepts that "it is right that the 27 have a chance to agree their position" before talks start.