Nine in ten Scots support fracking ban, survey suggests
Labour hopes to outlaw the controversial gas extraction technique across Scotland.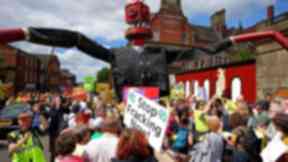 A move to ban fracking in Scotland has been backed by nearly 90% of the public in a new consultation.
Scottish Labour's environment spokeswoman Claudia Beamish conducted the survey to gauge support for her Member's Bill to outlaw the controversial gas extraction technique across Scotland.
Of the 1067 people who responded, 934 (87%) are in favour of a ban, while 12 (1%) were neutral, 114 (11%) were opposed and seven were unsure.
More than one in nine people (95%) agreed fracking poses "too many risks relating to pollution of the earth, water and air, and increased seismic activity", with only 4% disagreeing.
Just 6% of consultation responses agreed fracking could stimulate the economy and create jobs, with 88% disagreeing.
The Scottish Government brought in a moratorium in 2015 preventing hydraulic fracturing for shale oil and gas, and coal bed methane extraction, from taking place while investigating evidence on its potential impact.
Ms Beamish said: "There is a loud and clear message from this consultation: the overwhelming majority do not want fracking in Scotland, and have raised profound concerns about the potential environmental impact if it is allowed.
"The climate science is irrefutable. Scotland does not need a new fossil fuel as we shift towards a low-carbon economy.
"Many are also concerned about the potential health implications of unconventional oil and gas extraction."
Ms Beamish will now press ahead with her bill to ban the practice.
The parliament voted in favour of a Labour motion to ban fracking last June after SNP members abstained from voting.
The government's public consultation on the issue is due to close at the end of May and MSPs will be given a chance to vote before Scottish ministers come to a final decision, expected by the end of the year.
Scottish energy minister Paul Wheelhouse has said the will of the Scottish Parliament will be respected when a final decision is made.
Dr Sam Gardner, Head of Policy at WWF Scotland, said: "The results of this consultation are another reminder that there is overwhelming public support in favour of cleaner forms of energy and against fracking occurring in Scotland.
"The climate science is clear, the vast majority of known fossil fuel reserves need to be left in the ground."
Green MSP Mark Ruskell said the consultation revealed the public support for a fracking ban.
He added: "Whether we ban this dangerous practice with a member's Bill, or a government ban, the most important aspect is that it must be legally watertight."
A Scottish Government spokesman said: "It would be wrong to deny the people of Scotland their chance to comment on this important issue, and no decision will be taken before the public have had an opportunity to take part in the consultation."
Download: The STV News app is Scotland's favourite and is available for iPhone from the App store and for Android from Google Play. Download it today and continue to enjoy STV News wherever you are.