London mayor refuses to bankroll Garden Bridge project
The development appears doomed as Sadiq Khan describes it as too risky.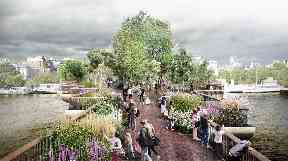 London's Garden Bridge appeared doomed today after Sadiq Khan refused to sign crucial pledges over maintenance costs.
A guarantee from City Hall to bankroll the annual £2-3m bill was a key planning condition imposed by Westminster and Lambeth councils.
But London's mayor today refused to honour the pledge made by predecessor Boris Johnson.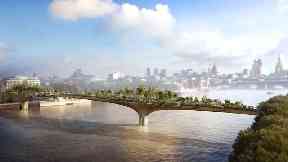 The Garden Bridge Trust argued the maintenance guarantees where hypothetical because an endowment fund would cover the annual costs.
Mr Khan said the £185m project was too risky because of spiralling costs.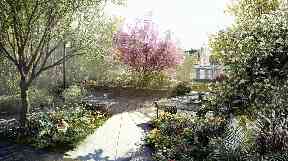 A recent report by Labour MP Dame Margaret Hodge, commissioned by the mayor, called for the idea to be scrapped even though taxpayers would lose £45m.
Having assessed all the information available to me including the findings of Dame Margaret Hodge's independent review, my view is that providing Mayoral guarantees will expose the London taxpayer to too much additional financial risk. With planning permission due to expire this year, many outstanding issues remain, including spiralling construction costs and doubts around funding the maintenance of the bridge.

SADIQ KHAN, MAYOR OF LONDON