Tories 'have good chance' of unseating SNP depute leader
Ruth Davidson talks up her party's prospects in Angus Robertson's Moray constituency.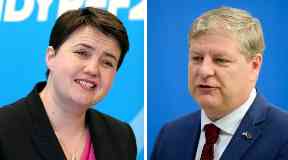 The Scottish Conservatives have a "pretty good" chance of unseating the SNP's Westminster leader Angus Robertson at the general election, the party's leader has said.
Ruth Davidson made the comments on Tuesday after four recent opinion polls showed support growing for her party in Scotland when compared with the last general election two years ago.
The SNP has held the Moray constituency since 1987, with Robertson serving as the local MP for the last 16 years.
Moray backed staying in the UK in 2014 and had the highest Leave vote (49.9%) in Scotland at last year's referendum on the UK's membership of the European Union.
The Scottish Tory leader said the contest between the SNP depute leader and her party's candidate Douglas Ross, who is an MSP but has stood in the last two general elections in Moray, will be a "titanic battle".
She said Ross has a "close to 50%" chance of success.
Davidson: "It's a very pro-union part of the country and it was the most pro-Brexit area of Scotland.
"I also think for those people, the 50.1% of people in Moray who voted Remain, similar to thousands of people across Scotland who voted Remain that are also pro-union, they are really angry.
"I don't think anybody has cottoned on to how angry pro-UK Remainers are that Nicola Sturgeon, Angus Robertson and others have hijacked their Remain vote to be a proxy vote for independence. People are furious about it."
The SNP said they were not surprised the Conservatives were targeting Robertson as he was such an effective parliamentarian in the Commons.
Richard Lochhead, who represents Moray in Holyrood, said: "This shows a special kind of arrogance from the Tories, which feedback on the doorsteps shows is clearly backfiring as voters tell us they are determined to reject the Tories and elect Angus Robertson, who has a track record for championing Moray.
"No wonder they are setting their sights on Angus Robertson - with his effective questioning at PMQs tying Theresa May in knots each week, he's the biggest thorn in the Tories' side."
Download: The STV News app is Scotland's favourite and is available for iPhone from the App store and for Android from Google Play. Download it today and continue to enjoy STV News wherever you are.