Scottish Labour councillors vote for Tory provost 
Three Labour councillors have resigned from the party in South Lanarkshire.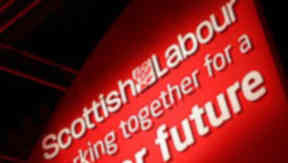 Scottish Labour councillors have voted to elect a Conservative provost in West Lothian.
The vote comes after the party's ruling body, the Scottish Executive Committee, rejected a proposed coalition deal with the Conservatives put forward by the local party on Wednesday evening.
The Labour council group was whipped to support Tory councillor Tom Kerr in his bid for the ceremonial post.
One party councillor, Dominic McGuire, defied the whip and did not vote for Mr Kerr.
The council voted to delay the formation of a council administration to allow more talks between the parties.
A decision is now due to take place on May 25.
A local party source described the situation to STV News as a "shambles".
West Lothian Labour council leader Lawrence Fitzpatrick said: "We've had a strong and secure minority Labour administration in West Lothian for the past five years.
"We will continue to work for a minority Labour administration in order to deliver our progressive manifesto for the people of West Lothian for the next five years."
In South Lanarkshire, three Labour councillors resigned from the party on Thursday while two SNP councillors left their party.
All five will now sit as independents despite being elected under their party colours two weeks ago.
The SNP successfully formed a minority administration in the authority on Thursday,
Labour formed a minority administration in North Lanarkshire with the support of the Conservatives and an independent councillor.
In return for their support, Labour voted in a Conservative councillor to head the audit and scrutiny committee.
STV News understands the trade off was arranged in talks before Thursday's vote. Several committee convenerships are yet to be filled.
Scottish Labour and the SNP managed to strike a coalition deal in Fife on Thursday.
Unlike the West Lothian and Aberdeen proposals, the power-sharing agreement was backed by the party's ruling body.
On Wednesday, Labour councillors in Aberdeen defied the SEC's order not to enter into an administration with the Conservatives.
Party leader Kezia Dugdale suspended all nine of the officials after they refused to pull out.
Download: The STV News app is Scotland's favourite and is available for iPhone from the App store and for Android from Google Play. Download it today and continue to enjoy STV News wherever you are.