Ruth Davidson appeals to Labour voters to switch sides
The Scottish Tory leader believes tactical voting can boost her party's chances.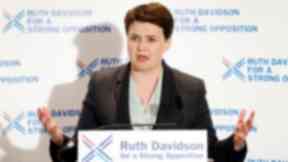 Scottish Tory leader Ruth Davidson will appeal to Labour voters to switch allegiance as she launches her party's general election manifesto north of the border.
Davidson will claim with the "help" of Labour voters, her party can defeat the SNP in "many places" across Scotland.
The launch comes the day after the UK party unveiled its election prospectus, which stated a second independence referendum would be blocked until the Brexit process had "played out".
Scottish Labour suspended all nine of its councillors in Aberdeen this week after they went against orders and formed a coalition with the Conservatives in the city.
The action, ordered by party leader Kezia Dugdale, "has left voters in Aberdeen betrayed and council colleagues suspended because she'd rather prop-up the SNP than work together with the Conservatives", Davidson will claim.
She will add: "This week the Scottish Labour Party - already weakened - has entered a state of civil war."
Appealing to Labour members and supporters, she will say: "The truth is, your party has left you, not the other way around.
"And it may well find its way back. But you know - and I know - it won't be at this election. So let me do a job for you.
"In great swathes of the country, it is only the Scottish Conservatives who are strong enough to take on the SNP. And in many places we can only win if you join with us."
James Kelly, Scottish Labour's general election campaign manager, said: "Ruth Davidson wants people to believe that she's a different kind of Tory but the reality is that the Scottish Tories are the party of the 'rape clause' and a hard Brexit.
"The Tories' reckless Brexit gamble has given the nationalists the excuse they have been looking for to try to force another divisive independence referendum."
The SNP said the Tories would remain the "nasty party" as long as they supported the so-called rape clause.
Speaking ahead of the manifesto launch, Alison Thewliss MP said: "The 'rape clause' is an abomination - it is a grotesque policy, which must be scrapped.
"It is policies like this, and other attacks on the most vulnerable in society - including pensioners, the disabled, vulnerable young adults and the bereaved - which would be pursued by a Tory government with a bigger majority.
"The Prime Minister once said that people often saw the Tories as the nasty party. If the Tories are not willing to ditch their support for the rape clause then it is the nasty party that they'll remain."
Download: The STV News app is Scotland's favourite and is available for iPhone from the App store and for Android from Google Play. Download it today and continue to enjoy STV News wherever you are.