Sturgeon: Labour not strong enough to oppose Tories 
Five UK party leaders went head-to-head in ITV's general election debate.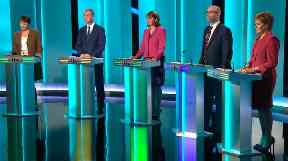 Labour "isn't strong enough to hold the Tories to account", Nicola Sturgeon has said.
The First Minister also claimed Theresa May's Conservatives are are "increasingly in hock to Ukip" and are trying to push through an "extreme Brexit".
She made the remarks during ITV's prime time leaders' debate held in Salford, hosted by Julie Etchingham.
Appearing alongside the First Minister were Liberal Democrat chief Tim Farron, Ukip's Paul Nuttall, Plaid Cymru's Leanne Wood and Green co-leader Caroline Lucas.
The Prime Minister and Labour leader Jeremy Corbyn turned down the invitation to take part in the debate, prompting criticism during the two-hour showdown.
Sturgeon chose to address both Scottish voters and voters in the rest of the UK, vowing to the latter group: "My pledge to you is that SNP MPs will always work for jobs, fairness and progressive values."
She accused Theresa May's party of being "increasingly in hock to Ukip" and said Labour "simply isn't strong enough to hold the Tories to account".
In her message to Scottish voters, she said: "It is only with a strong group of SNP MPs that we will have a strong enough hand to protect our public services from Tory cuts, stand against an extreme Brexit and continue to make our country the very best that it can be."
Leanne Wood challenged the Prime Minister over her decision to miss the debate, telling May: "You may be too scared to come here tonight, for your U-turns to be highlighted, for your cruel policies to be exposed.
"You want this election to only be about Brexit because that means you avoid talking about the real issues like the NHS, the economy and the cuts you have made to our public services.
"That's weak leadership - weak and unstable. I hope all of us here tonight will show you that real leadership means being willing to defend what you stand for, not hide from it."
Green co-leader Caroline Lucas used her opening statement to insist the UK can cope with the serious challenges it faces.
"Never in my lifetime has our future felt so uncertain. Brexit, climate change, an NHS in crisis," she said.
"But when people come together and reach for a bigger future, we have shown we can change the course of history."
Ukip leader Paul Nuttall said only his party is "truly committed to the Brexit that people voted for" in last year's referendum.
Only his party is committed to cutting immigration and slashing the foreign aid budget "that is costing you, the British taxpayer, around £30m every single day", he added, promising extra funding for the NHS instead.
"Brexit would never have happened if it wasn't for Ukip," Nuttall said.
"We have taken you so far. Elect Ukip MPs and give us the tools to see this through."
Tim Farron, leader of the Liberal Democrats, said he is determined to stop the return of a "heartless Conservative government".
He warned: "Theresa May - backed by Nigel Farage and Jeremy Corbyn - is going for an extreme Brexit deal that will damage our future for generations."
Insisting "a brighter future is possible", he added: "Don't give up. The Britain I love is not lost yet."
The leaders soon clashed over Brexit, with Lucas issuing a challenge to the Ukip leader on holding a final vote on the negotiated deal.
She also hit out at Labour, which she said "basically gave them (the Tories) a lift to the bank" to cash "a blank cheque" on Brexit.
Nuttall insisted Ukip still has a role to play, adding: "I don't believe that she (Theresa May) will get the best deal possible for Britain, I believe she will begin to backslide.
"I think she will backslide on fisheries, I think she will sell out fishermen once again like a former Tory prime minister did in Ted Heath.
"I think there will be some sort of dodgy deal over freedom of movement as well and I think she will capitulate and we will pay a divorce bill."
As he clashed with Leanne Wood, Nuttall got her name wrong twice, calling her "Natalie" - the Plaid Cymru leader shot back: "I'm not Natalie, I'm Leanne."
Asked about how to help the younger generation, Sturgeon argued for scrapping tuition fees, restoring housing benefit to young people and boosting the number of houses built over the next Parliament.
She added: "I don't think we should be setting young people against older people. At a time when we see pensioner poverty rising again, we shouldn't be removing pension protection.
"We should end austerity and make sure we can provide these opportunities for people, regardless of their age, across the country."
Nuttall provoked a furious response when he said he would pay for housing by scrapping the Barnett formula - the way by which the UK Treasury allocates public money for Scotland and Wales.
Addressing the First Minister, he said: "Well actually in Scotland you are getting £1700 extra per head than the English. It's all built on English taxpayers' money.
"That's why you have free prescriptions, that's why you have free tuition fees, that's why you have no hospital car parking charges."
Sturgeon interjected: "Scottish people pay taxes as well."
As the debate got under way, Labour leader Jeremy Corbyn tweeted: "Theresa May, why not debate me? The public deserve to see a debate between the only two people who could form the next government."
Download: The STV News app is Scotland's favourite and is available for iPhone from the App store and for Android from Google Play. Download it today and continue to enjoy STV News wherever you are.