Sturgeon: Dugdale 'said Labour should not block indyref2'
Scottish Labour leader rejected the First Minister's comments as 'categoric lie'.
Nicola Sturgeon has claimed Kezia Dugdale told her in private following the Brexit vote that she thought Scottish Labour should drop its opposition to a second independence referendum.
The First Minister made the remarkable claim during STV's general election debate on Tuesday, as party leaders clashed over independence, Brexit and welfare policies, including the controversial rape clause.
Sturgeon and Dugdale were joined by Scottish Conservative leader Ruth Davidson and Scottish Lib Dem leader Willie Rennie for the prime time debate, chaired by STV's political editor Bernard Ponsonby.
The SNP leader was taking questions from Dugdale during the cross-examination section of the debate, who told Sturgeon people were "angry" over her plans for a fresh independence vote.
The Scottish Labour leader said: "I have travelled the length of our beautiful country during this campaign and everywhere I go I meet people who stop me in the street and ask me what I'm going to do about 'that woman'. They mean you.
"Do you understand just how angry people are at you and your plans for a second independence referendum?"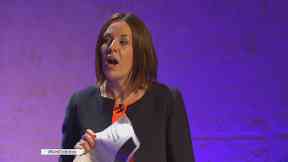 The First Minister replied: "I respect the fact that many people disagree with me on a referendum and independence.
"But I also genuinely think that Scotland needs to have a choice at the right time about our future because the consequences of not having the choice are that we may have to accept a disatrous Brexit that will put tens of thousands of Scottish jobs on the line.
"And you used to agree with me on that.
"You and I spoke the day after the EU referendum and you told me then that you thought the change occasioned by Brexit meant that you thought Labour should stop opposing a referendum."
Dugdale responded by calling the claim "not true" and "nonsense".
She later tweeted: "Any suggestion that I ever said to Sturgeon that I'd change Labour's position on #indyref2 is a categoric lie + shows how desperate she is."
Tory leader Ruth Davidson returned to the surprise admission a short time later, asking the First Minister: "Can I just walk you back about four minutes?
"Did you just tell people that you had a private conversation with Kez Dugdale last June where she said that she was going to drop Labour's opposition to independence?"
Sturgeon replied: "She said that she thought Brexit changed everything and that she didn't think Labour could any longer go on opposing a second independence referendum.
"She is entitled to change her mind, I accept that, but what I don't think any politician is entitled to do is to deny people in Scotland a choice over our own future."
The Scottish Labour leader denied the claims, saying: "I've just been very clear. We did speak on the phone after the European Union referendum result to share how devastated we were about it because of the damage it was going to do to Scotland's economy and future jobs.
"But the idea that I would do anything other than protect the United Kingdom and fight for us to remain within the UK is an absolute nonsense."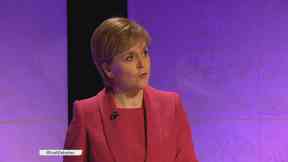 More fiery exchanges came as each of the party leaders was given the opportunity to question their rivals - with the SNP, Labour and the Lib Dems all attacking the Conservatives over the rape clause.
As part of UK welfare changes, women will no longer be able to claim tax credits for more than two children, with an exception to the rule being applied for women who conceived as a result of rape.
Sturgeon said many people had been "appalled" by the policy, which she said would save £300m from the benefits bill at the same time as the Conservatives spend £380m on a tax cut for the richest 15%.
"You could use that money that is going to the richest to get rid of that two-child tax cap and the rape clause," Sturgeon said.
"Why don't you ask your bosses in Westminster to make that choice and remove the rape clause once and for all?"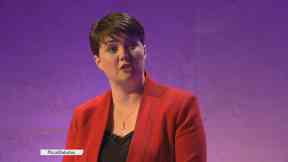 Dugdale brandished the form that has to be filled in as she pressed the Scottish Tory leader on the policy. She told Davidson: "Your Tory Party is just as callous and heartless as it has always been, is it not?"
But Davidson said: "This is about ensuring that people have had children in the very worst of circumstances get extra help.
"This is about limiting child tax credits to the first two children, but it means that for example people who have been raped aren't affected by that, it means they get to have that extra help."
Liberal Democrat leader Willie Rennie asked Davidson whether all Scottish Tory MPs would support the rape clause, before stating his opposition to it.
He had earlier challenged the First Minister to "cancel the next divisive independence referendum" and said she "knows people are sick fed up" of talking about it.