Sturgeon US car hire cost taxpayers more than £6000
The First Minister visited the United States on a five-day trip in April.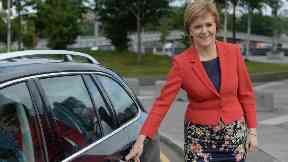 The Scottish Government spent more than £6000 hiring a car to transport the First Minister and two aides in the United States on a recent visit to the country.
The costs were published by the devolved administration as part of a regular publication of items it has purchased of more than £500 on Scottish Government debit cards.
Nicola Sturgeon spent five days visiting the United States in April alongside two aides.
Her trip included signing a climate change agreement and giving a speech backing Scottish independence.
The Scottish Conservatives said the public would be "shocked" to hear that £6399 of taxpayers' money was paid to the Californian vehicle hire company San Francisco Minibus.
The party's finance spokesman said: "Taxpayers are already footing a huge bill for Nicola Sturgeon's trip to US which was used to promote the SNP and its unwanted second referendum.
"People will be shocked to hear that more than £6000 was spent on vehicle hire alone. The SNP government will rightly face questions on whether this was a sensible use of public money.
"Friday's election results showed that voters want to see Nicola Sturgeon focus on improving education, health and the economy, not on trans-Atlantic jaunts to fly the flag for independence."
In response to Fraser, a Scottish Government spokesman said: "Travel is an essential part of official Government business.
"Promoting Scotland abroad and securing inward investment and jobs is essential to the growth of the Scottish economy and a key priority for Ministers.
"We continually look for ways to minimise the use of cars for official journeys and our aim is to ensure all travel is delivered in the most cost-effective manner, offering the best deal to the taxpayer."