Defeated Tory 'to be made government minister and Lord'
Ian Duncan lost out in his bid to become an MP at the general election.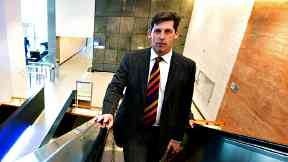 A Conservative politician who failed to win a seat in the general election is to be appointed to the House of Lords and become a junior minister at the Scotland Office.
Ian Duncan, who is a Member of the European Parliament, lost to the SNP's Pete Wishart by just 21 votes in the Perth and North Perthshire constituency contest earlier this month.
According to the Courier, Duncan is now set to resign as an MEP and will become the parliamentary under-secretary of state for Scotland.
When contacted, a Scotland Office spokeswoman said: "An announcement about a new Scotland Office minister will be made in due course.
"We are not commenting on speculation."
The rumoured appointment has been criticised by the First Minister, Nicola Sturgeon, and Wishart.
Sturgeon tweeted: "This should not be allowed. Rejected by the voters - but installed in government anyway, via the unelected House of Lords."
Wishart said appointing Duncan after he lost at the ballot box would be "simply extraordinary" and underlined "the ludicrous nature of the House of Lords".
STV News has contacted the Scottish Conservatives for comment.