Philip Hammond 'claims public sector workers overpaid'
The Treasury denies Philip Hammond used the words attributed to him in the row.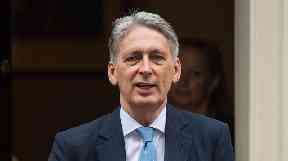 Philip Hammond is at the centre of a new Cabinet row after it was reported he said public sector workers were "overpaid".
The chancellor supposedly made the comment in Cabinet meeting on Tuesday, according to a report in The Sunday Times.
The report sparked angry rebuttals from leading public sector organisations, but also prompted speculation Mr Hammond was the target of a briefing war by colleagues jockeying for position to succeed Theresa May.
The Treasury denied Mr Hammond had used the words attributed to him.
Mr Hammond is known to be in favour of continuing the public sector pay cap.
According to The Sunday Times report, Mr Hammond said that, with their pensions were taken into account, public sector workers were "overpaid", and that train drivers were "ludicrously overpaid".
The report quoted a cabinet source saying: "Philip used a fairly inflammatory phrase. He said they were 'overpaid'.
"That caused some general astonishment. His overall tone was that we shouldn't give them more cash because they are overpaid."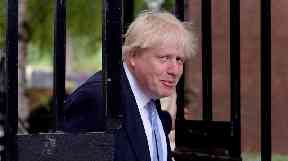 According to the report, five sources attested to the Chancellor using the word.
A Treasury source said: "The Chancellor was describing the public sector pension premium. He did not say that public sector workers were overpaid."
With the prime minister's position weakened, ministers are thinking about their futures.
Mr Hammond has irked some hardline Brexiteers in the Cabinet, including Foreign Secretary Boris Johnson, by arguing for a deal which prioritises jobs and economic growth over controlling immigration.
He has also warned of the need for a lengthy transitional period after Britain leaves the EU to prevent business falling off a "cliff edge".
That is seen by some hardliners as an attempt to reverse last year's referendum vote by stealth.
The report comes just a day after another report suggest that during a discussion on transport Mr Hammond had quipped that driving a train was so easy that "even a woman" could do it.