Ireland 'will not design border for the Brexiteers'
Leo Varadkar has ruled out the Irish Sea becoming the new frontier with the UK.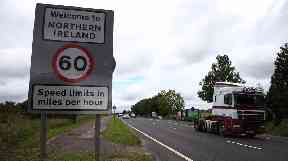 Republic of Ireland leader Leo Varadkar has said the country will not design a border for Brexiteers and insisted there was no proposal that the Irish Sea should become the new frontier with the UK after withdrawal from the European Union.
The Dublin administration is also unconvinced by the UK's plans to use technology to maintain the invisible land border between Northern Ireland and the Republic, which will become the boundary with the EU after Brexit.
The border between Northern Ireland and the Republic is one of the key issues that needs to be resolved by the UK and the EU before talks begin on a new trade deal.
The Taoiseach (prime minister) said: "What we're not going to do is to design a border for the Brexiteers because they're the ones who want a border.
"It's up to them to say what it is, say how it would work and first of all convince their own people, their own voters that this is actually a good idea.
"As far as this government is concerned there shouldn't be an economic border. We don't want one."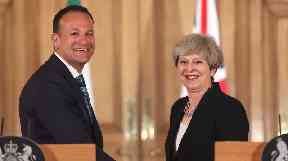 British ministers had proposed using measures such as surveillance cameras to allow free movement between the north and south of the island.
However sources told The Times that Mr Varadkar thinks these plans could jeopardise the peace process and restrict movement between the two countries.
He was reported to want customs and immigration checks moved away from the land border to ports and airports - effectively drawing a new border in the Irish Sea.
The Department of Foreign Affairs has said avoiding a hard border after Brexit will require "flexible and imaginative solutions".
Minister Simon Coveney told Irish national broadcaster RTE: "There is no proposal that is suggesting that there be a border in the Irish Sea."Theresa May's Democratic Unionist Party allies have hit out at that suggestion.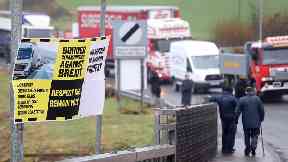 The party's leader in the Commons, Nigel Dodds, said such a move would be unacceptable to the DUP, which the Prime Minister relies on to prop up her minority administration in the House of Commons.
A sea border "may give the Republic of Ireland a special economic status within Northern Ireland but the heavy price would be new barriers to trade in the UK" for Northern Irish firms.
He said: "This apparent hardening of attitudes within the Irish Government is untimely and unhelpful.
"The DUP will not tolerate a border on the Irish Sea after Brexit that makes it more difficult to live, work and travel between different parts of the United Kingdom. The Prime Minister has already reiterated this.
"At Westminster we will continue to use the influence of our 10 MPs to ensure that respect for the integrity of the UK remains at the core of the negotiations process."