Thousands of disabled Scots 'face new benefits tests'
Around 130,000 people were receiving Disability Living Allowance last year.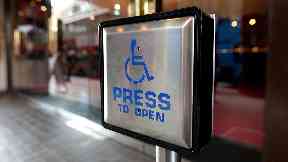 Tens of thousands of disabled Scots face controversial benefits assessments, according to figures highlighted by Scottish Labour.
Around 130,000 working age people in Scotland were receiving Disability Living Allowance (DLA) at the end of last year.
The benefit is gradually being replaced by Personal Independence Payments (PIP) and those being transferred face a new assessment process.
It has already been heavily criticised by charities and equality campaigners, who say the process - run by private contractors for the UK Government - puts claimants through unnecessary stress and worry.
The Scottish Government has pledged to reduce the need for assessments and ban the use of private firms when the benefit is devolved to Scotland.
Scottish Labour says the government's intervention will come too late.
Under transition arrangements, the UK Government will continue to administer certain benefits in Scotland, including PIP, until 2020.
Labour's social security spokesman Mark Griffin said: "For years SNP ministers have, rightly, criticised Tory reforms to welfare benefits for treating people with disabilities cruelly.
"They have promised that they would restore respect and dignity in the new Scottish social security system.
"But now they are prepared to leave some of Scotland's most vulnerable citizens to the mercies of a Tory government until the end of the decade."
A spokesman for social security minister and SNP MSP Jeane Freeman said her party had repeatedly asked the UK Government to halt the rollout of PIP in Scotland.
"There is no delay to the devolution of these social security powers," they said.
"Labour should know that it is only once we have the legislative framework in place - the process which is currently under way - that it is possible to start delivering the social security payments.
"We have repeatedly called on the UK Government to halt the roll-out of PIP in Scotland, which has caused many people to undergo stressful assessments and lose entitlement with devastating consequences."
He added: "The priority for those who want to protect people in Scotland from the UK Government's new system should be to stop the roll-out of PIP altogether.
"Ironically, if Labour had had their way then these powers would have remained in Westminster's hands in perpetuity.
"By contrast, the SNP campaigned tirelessly for these powers to be taken out of the hands of the Tories, and are working to build a system which has dignity and respect as its core principles."