Conservative MP apologises over gypsy traveller remarks
Douglas Ross said he would like 'tougher enforcement' against the community.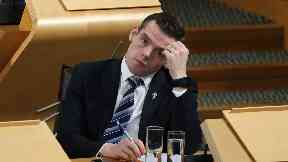 A Conservative MP has apologised for saying his priority as prime minister would be to bring in "tougher enforcement against gypsy travellers".
Douglas Ross made the comments in an online interview when asked what he would do if he was prime minister for the day.
He was criticised by opposition parties and human rights groups but said it was an issue within his Moray constituency, where landowners have faced court action and clean-up costs from camp sites.
Speaking on Friday, Ross said he would pick another priority such as tackling global famine or eradicating cancer if asked the question again.
But the SNP accused him of a "weasel-worded apology" and said he had "compounded" his initial comments by describing travellers' sites in his constituency on the A96 as a "blight on our communitry".
Ross said: "I do apologise for saying that would be a number one priority as prime minister, that clearly wouldn't be the case for any prime minister.
"If I was given the opportunity to do that quick-fire interview again, I would definitely come up with a different priority."
He added: "This is an issue that needs to be addressed and it's unfortunate that we cannot openly discuss it for fear of being called a bigot and a racist.
"If we do that then no one will ever mention this again and the divisions within these communities will maintain and the settled community will feel their voice does not get raised in this argument and problems with the gypsy travelling community will continue because no one is willing to debate and discuss this important issue."
'This is an issue that needs to be addressed and it's unfortunate that we cannot openly discuss it for fear of being called a bigot and a racist.'

Douglas Ross MP
Asked how many times there had been unauthorised travellers' encampments in his constituency, Ross answered: "It happens very often here in Moray."
He added: "Just driving along the A96 yesterday, there were two or three illegal, unauthorised traveller encampments which are a blight on our community."
In the Meet The MPs interview series with Core Politics, Ross was asked: "If you were prime minister for the day, without any repercussions, what would you do?"
He said: "I would like to see tougher enforcement against gypsy travellers."
The video then cuts to the next question.
Ross claimed his Moray seat from the SNP's Angus Robertson in one of the Conservatives' biggest scalps in June's general election, in which they won 13 seats in Scotland.
He was formerly a Scottish Tory MSP for the Highlands and Islands region.
Ross is also a football official for the SFA and will be working at Parkhead this weekend for Celtic's game against St Johnstone.
His comments about gypsy travellers are being looked at by the SFA's compliance officer.
The controversy comes after Ruth Davidson defended on Thursday her party's decision to readmit two Conservative councillors despite racist and sectarian comments they posted on social media.
SNP MSP Christina McKelvie claimed that both episodes showed the Scottish Conservatives were "normalising prejudice when they should be condemning it."
She said: "Douglas Ross's initial comments about gypsy travellers were disgraceful - he has now compounded that with his suggestion they are a 'blight on our community' who have too much legal protection and need to be 'dealt with'.
"He would be well advised to stop digging the deep whole he has already dug for himself.
And his weasel-worded apology will do nothing to dispel the growing realisation that prejudice and bigotry are alive and well in Ruth Davidson's Tories.
McKelvie added: "There is a serious danger that rather than condemning intolerance and prejudice, Ruth Davidson's Tory party is normalising it.
"The Scottish Tory party offers a home to extremist views, turns a blind eye to prejudice and allows those who spout offensive nonsense to hold elected office."
Download: The STV News app is Scotland's favourite and is available for iPhone from the App store and for Android from Google Play. Download it today and continue to enjoy STV News wherever you are.