UK Government's Brexit papers branded 'unsatisfactory'
EC president Jean-Claude Juncker says an 'enormous amount' needs to be settled.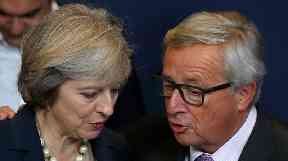 The Government's preparations for Brexit talks have been slammed by the European Commission president Jean-Claude Juncker.
Mr Juncker said none of the the Government's official papers setting out its position on key issues were satisfactory.
He added that it was "crystal clear" an "enormous amount" of issues needed to be settled before talks on a future trade deal could begin.
His comments came after Brussels' chief Brexit negotiator Michel Barnier said he was concerned about the lack of clarity and insisted "we must start negotiating seriously".
The third round of talks between Mr Barnier and Brexit Secretary David Davis got underway on Monday.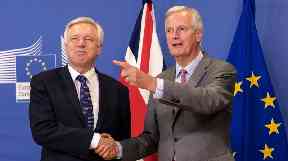 Mr Juncker said the UK "hesitates showing all its cards" but added: "I did read, with the requisite attention, all the papers produced by Her Majesty's Government and none of those is actually satisfactory.
"So there is still an enormous amount of issues which remain to be settled.
"Not just on the border problems regarding Ireland and Northern Ireland, which is a very serious problem in respect of which we have had no definitive response, but we also have the status of European citizens living in the UK and UK citizens living on the Continent.
He added: "We need to be crystal clear that we will commence no negotiations on the new relationship - particularly a new economic and trade relationship - between the UK and the EU before all these questions are resolved."
"First of all we settle the past before we look forward to the future."
The UK wants trade talks to take place at the same time as discussions on separating the UK from the bloc.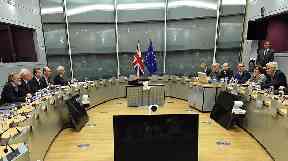 Mr Barnier said: "We need UK papers that are clear in order to have constructive negotiations. And the sooner we remove the ambiguity, the sooner we will be in a position to discuss the future relationship and a transitional period."
Mr Davis insisted the UK position papers produced in recent weeks - on issues including Northern Ireland and the continued access of goods to market - were strong in detail.
He said: "They are the products of hard work and detailed thinking that has been going on behind the scenes not just the last few weeks, but for the last 12 months, and should form the basis of what I hope will be a constructive week of talks."
Downing Street said further position papers will be published next week and defended the UK's approach to the talks.
"We believe we are in a good position and would like to move on to discuss our future relationship," a Number 10 spokeswoman said.
European leaders are expected to decide in October whether talks have progressed enough to move on to future arrangements and Downing Street said next Thursday's meeting between Mr Barnier and Mr Davis would give an indication of the state of play.