Thousands of council equal pay claims still outstanding
Almost 27,000 claims remain unpaid thirteen years after an agreed deadline.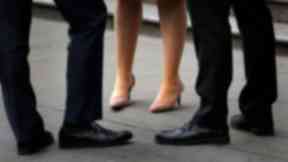 More than a decade after the deadline for equal pay implementation in councils across Scotland, a third of claims are still outstanding.
The Accounts Commission said around £750m has been spent settling claims since 2004 and nearly 27,000 were still live.
In a study of how councils implemented an agreement brought in in 1999 to harmonise pay for employees and address historic inequalities, the commission found all but one of the 32 local authorities missed the 2004 deadline.
It took 11 years - twice as long as planned - for all councils to implement the agreement, which was finally completed in 2010.
The commission found progress was slowed by funding problems as councils received no extra money for the new pay scheme and some approaches taken to save costs and avoid industrial action, such as protecting pay and bonuses, were found to be discriminatory.
The report states: "Ultimately the measures councils adopted kept men's salaries higher than women performing equivalent roles."
Between 2004 and September 30, 2016, some 70,453 equal pay claims were lodged against councils and payouts, totalling around £750m.
At the end of September last year 26,912 equal pay claims lodged with the Employment Tribunal Service remained live.
Of these, nine out ten are from women and thousands have been live for more than a decade.
Commission member Pauline Weetman said: "Equal pay is both an incredibly important issue and a legal duty for Scotland's councils to eliminate decades of inequality.
"However, implementation of equal pay has been a substantial challenge for local government.
"Councils need to be confident that pay equality is embedded in how they operate."
Gail Macgregor, resources spokeswoman for the Convention of Scottish Local Authorities (Cosla) said: "As employers, councils take their responsibilities to achieve equal pay very seriously, and we are frustrated that there remains a high number of claims outstanding.
"This is in large part down to complex and nuanced legal issues which can frustrate the process and act as barriers to quicker outcomes.
"Councils have endeavoured to settle all legitimate claims as quickly as possible. It is worth nothing that cases can remain 'live' in the Employment Tribunal system even when settled and we have no control over when these are taken down.
"Also, many other remaining cases are 'class actions' where the settling of a single test case will resolve a larger number of cases in one go."
Download: The STV News app is Scotland's favourite and is available for iPhone from the App store and for Android from Google Play. Download it today and continue to enjoy STV News wherever you are.