Farming subsidy delays could lead to £700,000 fine
The Scottish Government expects a hefty penalty over CAP payments in 2016.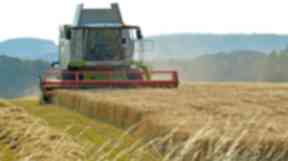 The Scottish Government could face a fine of up to £700,000 for the late payment of European subsidies to farmers, MSPs have heard.
The penalty relates to delays in 2016 Common Agricultural Policy (CAP) payments.
The government also faces potential financial penalties of around £5m as a result of late payments in 2015 after delays caused by a new £178m IT system.
Nine out of ten of payments due to farmers were paid by the June deadline.
The European Commission rejected a request from Scottish ministers for an extension.
Elinor Mitchell, director of agriculture, food and rural communities at the Scottish Government, told MSPs on Holyrood's public audit committee she is "fairly confident" there will be no penalties over the Basic Payment Scheme and Greening, which make up the majority of CAP payments.
She said "modest penalties" were expected for the Scotland-only Voluntary Coupled Support scheme, which helps beef and sheep farmers, and for the cross-UK Young Farmers scheme.
"Across both schemes we're anticipating penalties of around half a million pounds, between half a million and £700,000," she said.
Acting convener Jackie Baillie MSP said: "It sounds as if what you're telling me is this is one of the benefits of being part of the United Kingdom, that other areas outperform Scotland and consequently we all avoid penalties. Would that be correct?
Ms Mitchell said: "We achieved payment performance of about 90% and the other paying agencies achieved much higher, higher 90s, which evened out across the country, yes."
The Scottish Government could also face separate EC financial penalties, known as disallowance, if weaknesses in the administration and control of CAP payments are identified.
A recent assessment from Audit Scotland warned the figure for this could be as high as £60m.
Questioned on the government's own assessment of the risk, Ms Mitchell told the committee: "Audit Scotland has made an assessment of up to £60m.
"We don't make any assessment of disallowance. We believe we carry out the regulations to the letter, we believe that we do them appropriately and to the letter of the law so we don't consider that we will face any disallowance.
"Every year we do face disallowance but it's a long drawn out process of negotiation with the European Commission in terms of the level of that and we don't know yet is the answer."
Download: The STV News app is Scotland's favourite and is available for iPhone from the App store and for Android from Google Play. Download it today and continue to enjoy STV News wherever you are.